UFCW members stood together to negotiate strong, new contracts this year, including thousands of hard-working men and women who work for our major grocery employers. Grocery industry ratifications included Stop & Shop in Massachusetts, Rhode Island and Connecticut; Smith's Food and Drug in New Mexico; King Soopers in Colorado; Fred Meyer and QFC in Oregon and southwest Washington; Kroger in Tennessee, Mississippi, Kentucky, Arkansas, Houston, Indiana and Ohio; Ralphs, Albertsons, Vons, Pavilions and Stater Bros. in Southern California; and Schnucks in Missouri.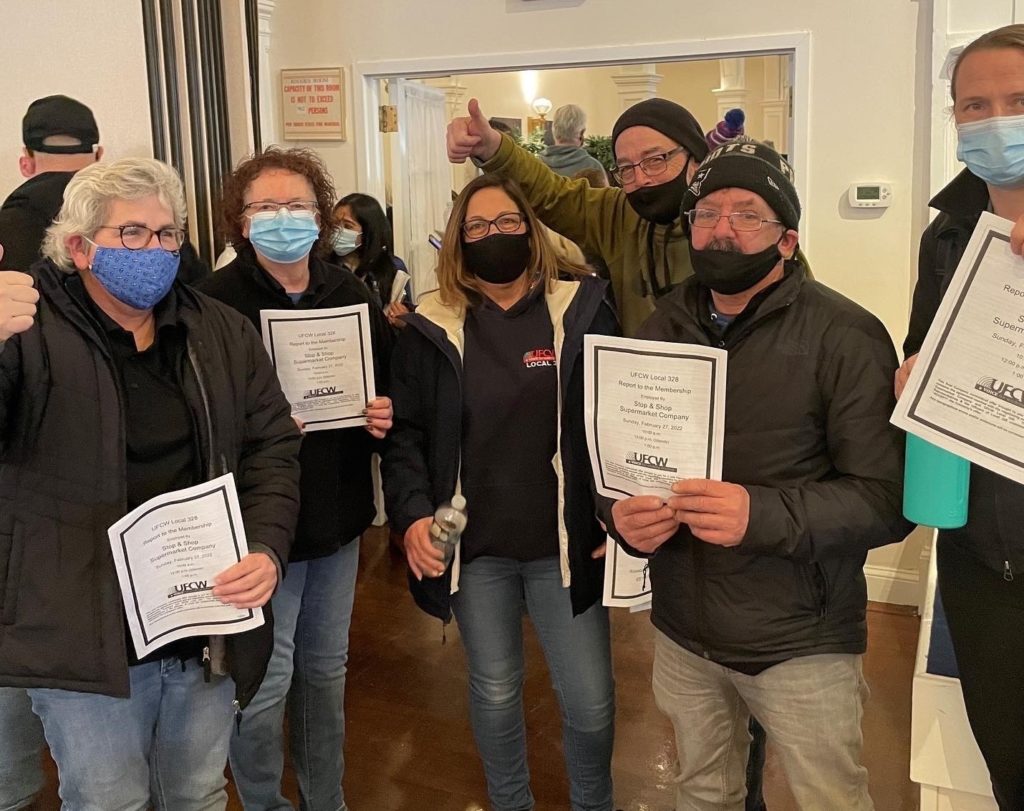 Some members celebrated the benefit of having a first union contract, including health care workers in New Jersey and Washington; cannabis workers in Ohio, Rhode Island, Massachusetts and Illinois; and coffee baristas in Pennsylvania.
Members of UFCW Local 3000 who work at the Providence Regional Cancer System RadiantCare Radiation Oncology in Aberdeen, Lacey, and Centralia, Wash., ratified a first union contract in March that raises wages and improves workplace protections. The 23 workers are employed as radiation therapists, as well as registered nurses, dosimetrists, patient care coordinators, and licensed vocational nurses.
The four-year contract includes wage increases ranging from 2 to 20 percent, which was reflected in April 15 paychecks. This contract is also the first to achieve placement onto a wage scale dependent on years of service versus a minimum percentage increase, which resulted in higher wage increases compared to other newly organized units. On top of guaranteed wage increases, the bargaining team was able to win workplace protections, including a grievance process and a lay-off procedure. In addition, the contract includes language pertaining to health benefits, the retirement plan, differential pay and successorship.
"After years of inequality in pay, we will finally be compensated accordingly for our years of service through our first contract," said bargaining team members Kelly Covington, Branden Raftery, Paul Lofing and Winter Everson. "We are proud of our first contract!"
In September, Jordy Vargas and other members of UFCW Local 1776KS who work at five Coffee Tree Roasters shops in Pittsburgh ratified a first union contract that increases wages and improves benefits. These workers joined our union family in February.
The three-year contract includes wage increases and parity. The contract also includes seniority rights, guaranteed hours and scheduling changes, a grievance procedure, an overtime provision, a trainer premium, and a 401(k) savings plan.
"Not only is this a huge win for us with the increase in wages and electronic tips, but I know many of us will feel much more comfortable at work knowing that we have protections in place," said Vargas. "I'm so proud of the work we did and hope that we continue to see more union campaigns in the service industry. We want everyone to know it's possible to unionize your workplace."
Here are the negotiating articles that appeared in OnPoint this year:
See's Candies Workers in California Ratify a New Contract
Meat Processing Workers in New Jersey Stand Together for a Better Contract
Cannabis Workers in Pennsylvania Ratify a New Contract
Workers at Pick 'n Save in Wisconsin Ratify a New Contract
Workers at Pilgrim's Pride in Nacogdoches, Texas Ratify a New Contract
Seafood Workers in Pennsylvania Ratify a New Contract
Fred Meyer Workers in Washington Ratify a First Contract
Health Care Workers in New Jersey Ratify First Union Contract
The Wine Group Workers in California Ratify a New Contract
Cannabis Workers in Ohio Ratify First Union Contract
Coffee Tree Roasters Workers in Pennsylvania Ratify First Union Contract
California Food Delivery Workers Stand Together for a Strong First Contract
Massachusetts Cannabis Workers Ratify First Contract With Local 328
Grocery Workers in Minnesota Stand Together for a Better Contract
Glass Workers in Pennsylvania Stand Together for a Better Contract
SLS Car Wash Workers in New York Ratify a New Contract
Rhode Island Cannabis Workers Ratify First Contract
Minnesota Grocery Workers Stand Together for a Better Contract
Food Processing Workers in New York Ratify a New Contract
Assisted Living Workers in New Jersey Ratify a New Contract
Kowalski's Market Workers in Minnesota Stand Together for a Better Contract
Food Processors in Pennsylvania Ratify a New Contract
Indiana Kroger Workers Ratify a New Contract
Washington Grocery Store Workers Ratify New Contracts
Tannery Workers in Minnesota Stand Together for a Better Contract
Shaw's Supermarket and Distribution Workers in New England Ratify New Contracts
Macy's Workers in Massachusetts and Rhode Island Ratify a New Contract
Safeway Workers in Hawaii Ratify a New Contract
Conagra Bakery Workers in Indiana Stand Together for a Better Contract
Food Processing Workers in New Jersey Ratify a New Contract
Maryland Police Officers Stand Together for a Better Contract
Maryland Jockey Club Workers Ratify a New Contract
Zara Workers in Connecticut Ratify a New Contract
New York Foragers Market Workers Ratify First Contract
Kroger Delta Workers Ratify a New Contract
Coca-Cola Workers in Maryland Gain Better Wages in New Contract
Houston Kroger Workers Stand Together for a Better Contract
Washington Health Care Workers Ratify First Contract
Southern California Grocery Workers Gain Better Wages and Benefits in New Contract
New York Bookstore Workers Ratify First Contract
Food Processing Workers in New Jersey Stand Together for a Better Contract
Stater Bros. Grocery Workers in California Ratify a New Contract
RWDSU/UFCW Kellogg's Workers in Kansas Gain Wage Increases in New Contract
Massachusetts Cannabis Workers Ratify First Union Contract
Wisconsin Co-op Workers Stand Together for a Better Contract
Alaska Grocery Workers Gain Better Wages and Benefits in New Contract
Food Processing Workers in Pennsylvania Ratify a New Contract
Ambulance Workers in Michigan Stand Together for a Better Contract
New York Health Care Workers Ratify New Contracts
Cannabis Workers in Illinois Ratify First Union Contract
New England Stop & Shop Members Secure Strong Pay and Benefits in New Contract
Grocery Workers in New Mexico Stand Together for a Better Contract
Overhill Farms Workers in California Ratify a New Contract
Health Care Workers in Washington Ratify New Contracts
Grocery Workers in Pennsylvania Stand Together for a Better Contract
Food Processing Workers in New Jersey Stand Together for a Better Contract
Bob's Discount Furniture Workers in Connecticut Ratify a New Contract
King Soopers Members in Colorado Ratify New Contract, Ending Strike
Burlington Coat Factory Workers Gain Better Wages With New Contract
New Contract Ratified by Fred Meyer and QFC Workers in Oregon and Washington
Connecticut Health Care Workers Stand Together for a Better Contract
New Jersey Food Processors Ratify a New Contract
Washington Health Care Workers Ratify New Contract
Pennsylvania ShopRite Workers Ratify a New Contract
Kaiser Permanente Members Stand Together for a Better Contract
Food Processing Workers in Pennsylvania Ratify a New Contract