About 270 members of UFCW Local 1189 who work in three Festival Foods and two Knowlan's Supermarkets stores in the St. Paul, Minn., metro area ratified a new contract on July 28 that strengthens wages and benefits. Festival Foods stores in St. Paul and Minneapolis are owned by Knowlan's Supermarkets, Inc.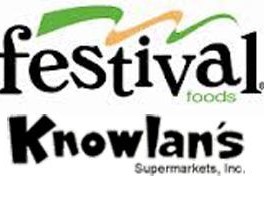 The two-year contract includes wage increases and scheduling improvements. The contract also includes health and safety measures to protect our members, including safety trainings and meetings and protective equipment. In addition, the contract includes new and improved pandemic and gender neutral language. The employer will also pay a significant increase into the multiemployer union health care fund with no increase to member contributions.
"The increased wages, health care and improved safety language were only achievable through belonging to a union," said J. Scotty Rotter, who is a Festival Foods employee and long service steward and negotiating committee member.
"I'm proud of the hard work and accomplishments of the Festival and Knowlan's bargaining committee, who proved that even our members working for small employers can make major improvements and raise the standard for all workers in the industry," said UFCW Local 1189 President Jim Gleb.