On Jan. 3, over 50 workers at Politics and Prose bookstore in Washington, D.C., made history by becoming the first unionized bookstore in the nation's capital by joining UFCW Local 400. These workers joined our union family because they wanted better wages, pay transparency and a standardized pay scale. They also wanted a voice in the workplace to address understaffing, scheduling, health and safety policies, and other issues. Politics and Prose has three locations in Washington, D.C.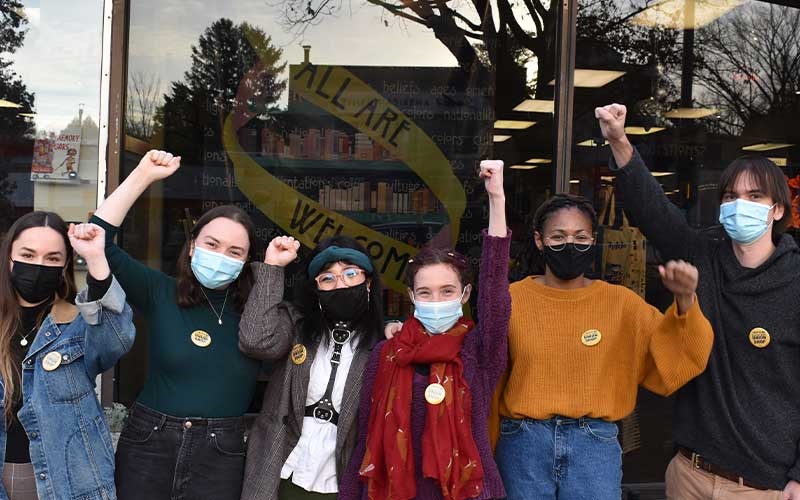 Politics and Prose owners Bradley Graham and Lissa Muscatine initially declined to recognize Local 400 as the workers' union and hired the law firm Jones Day, which is known for its aggressive anti-union tactics. However, they reversed course to work with a local labor attorney and negotiate the scope of who would be included in the bargaining unit.
"As stewards of a local, independent business with a 37-year legacy of progressive management and mission, we've valued collaborating with employees to solve problems and address needs, and we look forward to working with the union in the same spirit," said Graham and Muscatine in a joint statement.
"We are proud to join the growing movement of booksellers and baristas across the country who have unionized their workplaces," said the Politics and Prose organizing committee in the same statement. "Forming our union has not only served as an affirmation of our shared values within the Politics and Prose community, it will also strengthen our workplace and ensure the long-term success of our beloved community hub. We look forward to negotiating our first contract and welcoming more bookstore workers in DC and beyond into our union family."