Over 150 members of UFCW Local 27 who work at the Maryland Jockey Club in Laurel, Md., ratified a new contract on April 29 that strengthens wages and benefits. These workers are employed as betting window tellers, parking lot attendants, starting gate workers, security officers and jockey valets, and work at the club's Laurel Park and Pimlico race courses.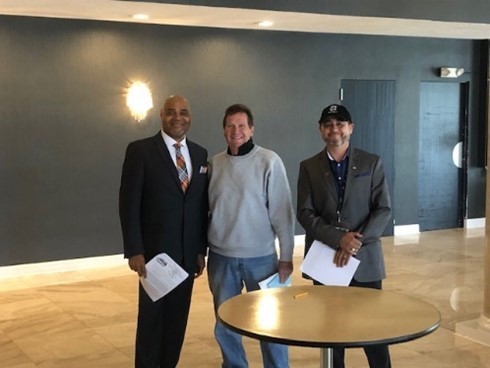 The three-year agreement includes wage increases each year of the agreement and improves health care benefits. The contract also increases the number paid holidays and premiums on big race days, and includes a yearly $2000.00 Health and Welfare stipend for part-time members, as well as vacation rollovers and language to protect the pension.
"I have worked for MJC for 28 years and have been a shop steward for the past seven years," said Francisco Saez, who works as a security lieutenant. "This contract was the best contract that the employees have seen here in all of that time. I feel very optimistic about the future and am very happy with all we were able to accomplish in this contract. Thank you to the Local 27 team for all their hard work."
"It was a pleasure to work with the representatives of Local 27," said Lisa McKlveen, who is also a shop steward and a racing outrider. "They fought hard, and I think we received a fair contract for the employees of our company. I look forward to working with them again in the future."
"Our committee did an awesome job at the bargaining table, and they should be commended for standing up to management when they needed to," said Lead Negotiator and Executive Assistant to the President Nelson L. Hill.
"Congratulations to all our members at Maryland Jockey Club on voting overwhelmingly to ratify their new three-year agreement which significantly increased wages, expanded and improved Health and Welfare coverage and increased the number of paid holidays," said UFCW Local 27 President Jason Chorpenning. "It took nearly a year. However, we refused to back down until a strong agreement was reached and ratified. We are all proud of what we've accomplished in this new contract."