In 2021, the UFCW continued to advance workplace health and safety protections and support legislation aimed at protecting and improving the lives of our members.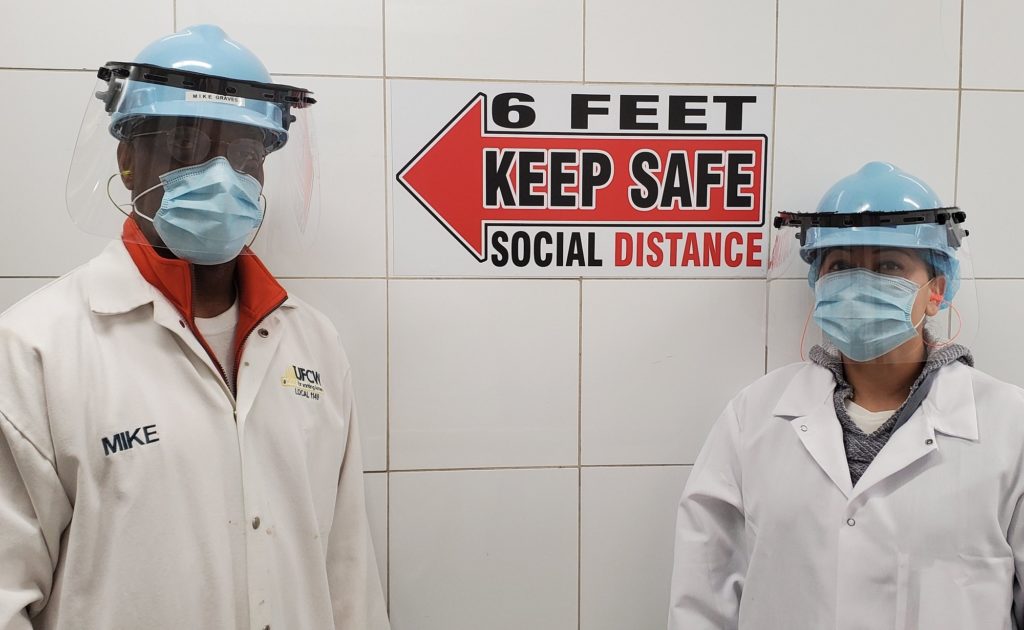 Earlier this year, the UFCW hosted a virtual town hall meeting on COVID-19 safety measures and vaccine access for essential workers with Dr. Anthony Fauci, the chief medical advisor to President Biden and director of the National Institute of Allergy and Infectious Diseases at the National Institutes of Health. During the event, Dr. Fauci addressed questions from UFCW members while providing the latest updates about the vaccine and why we need to keep taking the necessary precautions to slow the spread of the virus.
Our union partnered with state leaders and industry employers to expand COVID-19 vaccine access to thousands of essential meatpacking workers. We also opened up our union halls as vaccination sites.
We partnered with the University of Nebraska Medical Center and FORWARD, the national databank for rheumatic diseases, to launch a long-term, national Essential Worker Study to help our union understand the impact of the COVID-19 pandemic on our members. The new study is focusing on rates of infection, which types of workplaces have had the most infections, and vaccination rates. To date, over 15,000 members have signed up for the study. Our union also launched a series of COVID-19 educational Q&A events to provide our members with an opportunity to have their questions about the COVID-19 disease and life-saving vaccines addressed by top doctors and public health specialists.
And this holiday season, our union launched a new holiday shopping #ThankAWorker campaign with health and safety shopping tips to show support for the men and women keeping stores open and our economy strong as the pandemic continues.
On the political front, the UFCW supported the Centers for Disease Control and Prevention mask policy recommending that vaccinated and unvaccinated Americans resume wearing masks indoors and our union also called for a national mask mandate. Our union also supported the Biden Administration's guidance for essential worker COVID-19 hazard pay to be prioritized as governors and mayors distribute the $350 billion in state and local COVID relief aid from the American Rescue Plan.
The UFCW testified before the House Select Subcommittee on the Coronavirus Crisis about COVID-19 safety risks meatpacking workers have faced as frontline workers. Our union highlighted findings from a new report from Rep. James Clyburn, who serves as chairman of the subcommittee, which showed that meatpacking COVID-19 cases were significantly underestimated and non-union plants had some of the biggest safety failures. Our union also called on Congress and the USDA for immediate action to strengthen protections for meatpacking workers to keep them safe on the job and ensure this never happens again.
Our union supported the passage of the bipartisan Infrastructure Investment and Jobs Act that supports good-paying union jobs, and urged Congress to invest in working families by passing the Build Back Better Act. The UFCW also announced support for the Protecting America's Meatpacking Workers Act, new legislation from U.S. Senator Cory Booker (New Jersey) and U.S. Representative Ro Khanna (California) that will strengthen worker safety, help increase transparency, and support American jobs. Our union also called the Biden Administration vaccine mandate and Emergency Temporary Standard on workplace safety from OSHA an important first step to keeping frontline workers safe and emphasized the need for workers to have a voice in how these policies are implemented.


Here are the articles about the UFCW's effort to protect our members that appeared in OnPoint this year:
UFCW Launches Holiday Shopping #ThankAWorker Campaign
Help Highlight UFCW Member Voices in Essential Worker Study
Help Us Recruit More Participants for the Essential Worker Study
UFCW Launches COVID-19 Educational Q&A Events
UFCW Launches New Study to Understand the Impact of COVID-19 and Strengthen Workplace Safety
UFCW Hosts "Ask Dr. Fauci" Town Hall Meeting
UFCW and Partners Expand Vaccine Access to 12,000 Meatpacking Workers
UFCW and Cargill Announce COVID-19 Vaccine Rollout Plan Across Midwest
UFCW Highlights Urgent Need for Vaccine Access and Hazard Pay for Essential Workers
Locals Host COVID-19 Vaccination Sites for Members and Communities
Here are the articles about our union's effort to protect our members through stronger legislation and oversight from government agencies:
UFCW Supports New Legislation Aimed at Protecting Meatpacking Workers
UFCW Applauds House Passage of Build Back Better to Support Workers and Families
UFCW Condemns Smithfield Federal Settlement as COVID Risks Continue
UFCW Applauds Biden Infrastructure Investment in Good Union Jobs
UFCW Responds to Biden Vaccine and Workplace Safety Rule
UFCW Applauds New Build Back Better Framework
UFCW Testifies Before Congress About Meat Plant COVID Safety and New Report
American Rescue Plan Hazard Pay Reaches Members in Southern California
UFCW Wisconsin Frontline Workers Urge Congress to Pass Biden's Economic Agenda
UFCW Ohio Frontline Workers Urge Congress to Pass Biden's Budget and Infrastructure Plan
UFCW: FDA Pfizer Approval a Big Step in Fight Against COVID-19 Delta Threat
UFCW: Stronger OSHA Workplace Safety Guidance Needed to Protect Essential Workers
UFCW Applauds Pro-Worker Agriculture Reform in Congress
UFCW Supports National Mask Mandate to Protect Essential Workers
How Biden Child Tax Credit Helps UFCW Members
UFCW: New Cannabis Bill in Congress Is Key to Supporting Good Jobs
Help Pass the PRO Act to Strengthen Workers' Rights
UFCW Applauds Passage of Hazard Pay Measure in Southern California
UFCW: Biden's Executive Order Levels Playing Field for American Workers
UFCW Urges Congress to Pass Biden Jobs Plan
Biden's Historic Labor Board Nominee Applauded by UFCW
UFCW Applauds California Leaders for Allocating Funds to Essential Workers
UFCW: OSHA Fails to Protect Frontline Workers
UFCW Applauds USDA for Putting Meatpacking Worker Safety First
UFCW Applauds Biden's Premium Pay State Guidance in American Rescue Plan
UFCW Raises Concerns About New CDC Mask Policy
UFCW Meets With OMB to Underscore Importance of OSHA Standard
UFCW Applauds Biden's Vaccine Tax Credit and Calls on Employers to Guarantee Paid Leave
UFCW: Biden's American Jobs Plan Puts Power in Workers' Hands
UFCW Members Stop Dangerous Pork Line Speeds With Legal Victory
UFCW Urges Congress to Pass Line Speed Bill as COVID-19 Risks Continue
UFCW Applauds Biden's COVID-19 Relief Legislation
UFCW Members Help Introduce New Workplace Safety Legislation
UFCW Applauds Biden's Actions to Support and Protect America's Workers
UFCW Supports Biden Administration's COVID-19 Relief Plan That Puts Essential Workers First
UFCW, Meat Producers Urge Governors to Prioritize COVID-19 Vaccine for Meatpacking Workers
UFCW: Election of Warnock and Ossoff Is a Powerful Victory for Working Families
UFCW Applauds CDC Guidance, Calls on States to Guarantee Free Vaccine Access for Essential Workers
Local 1996 and U.S. Senate Candidate Call for Stronger Protections for Frontline Workers