UFCW Local 1996 recently worked with U.S. Senate candidate Jon Ossoff to call for more protections for Georgia's essential workers as the COVID-19 pandemic continues.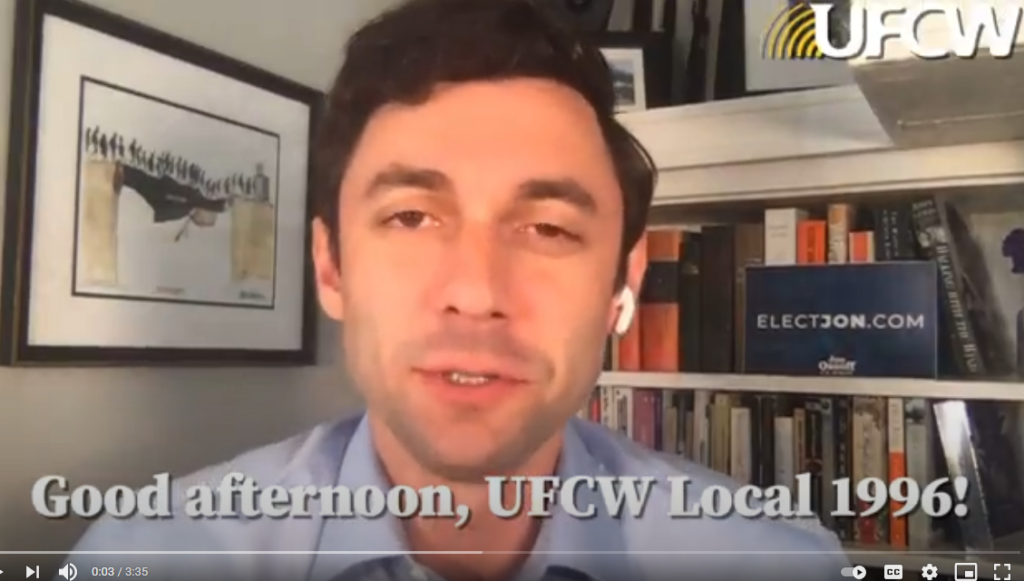 In a video, Ossoff worked with UFCW Local 1996 to call for greater accountability from Georgia employers, urging them to strengthen workplace safety standards, guarantee adequate access to personal protective equipment, restore hazard pay as the pandemic continues, and expand protections for all their essential frontline workers.
"Georgia essential workers have been on the frontlines of this pandemic since day one, stepping up in health care facilities, nursing homes, grocery stores and meatpacking plants so families can get through this crisis," said UFCW Local 1996 President Steve Lomax. "As the union for many of Georgia's frontline workers, UFCW Local 1996 is proud to partner with Jon Ossoff in calling for action to protect and invest in these brave workers."
"Now more than ever, Georgia needs strong leaders like Jon Ossoff in Congress who will hold corporations accountable for their employees' safety and make sure that all Georgia's essential workers receive the hazard pay and protections they need as they serve on the frontlines," Lomax added.
"I want to talk about how important it is that we hold employers accountable in every field," said Ossoff in the video. "Working people need protectors, advocates, and champions in the United States Senate. Corporate power is so massive in this country that working people often don't have a voice. We need to strengthen worker protections and workplace safety measures both during this pandemic and generally because [workers'] health is everything and to the extent [employers] can help prevent injury or illness that results from the work that [workers are] doing it should be their responsibility to do so and it's the role of legislators who represent you to hold them accountable to that."
"I will support legislation to provide hazard pay," Ossoff added. "For example, to all the folks working in foodservice who are working at grocery stores, who are stocking shelves, who are keeping food moving across this country, but have not been paid commensurate with the risk that they are taking during this pandemic.  We have to honor the labor movement in this country. Make it easier for workers to demand the wages and rights that they need to sustain themselves and their families and to work safely. I will be an ally and a champion for working families in Georgia when I serve you in the United States Senate. This is about health, jobs, and justice for the people. Let's win the United States Senate. Let's make a difference for working people."
UFCW Local 1996's work with Ossoff is an example of how locals can work with political leaders in their state and call for hazard pay and other COVID-19 protections for UFCW members. You can view the video here.