Last week, the UFCW called the Biden Administration vaccine mandate and Emergency Temporary Standard (ETS) on workplace safety from OSHA an important first step to keeping frontline workers safe. The UFCW also emphasized the need for workers to have a voice in how these policies are implemented.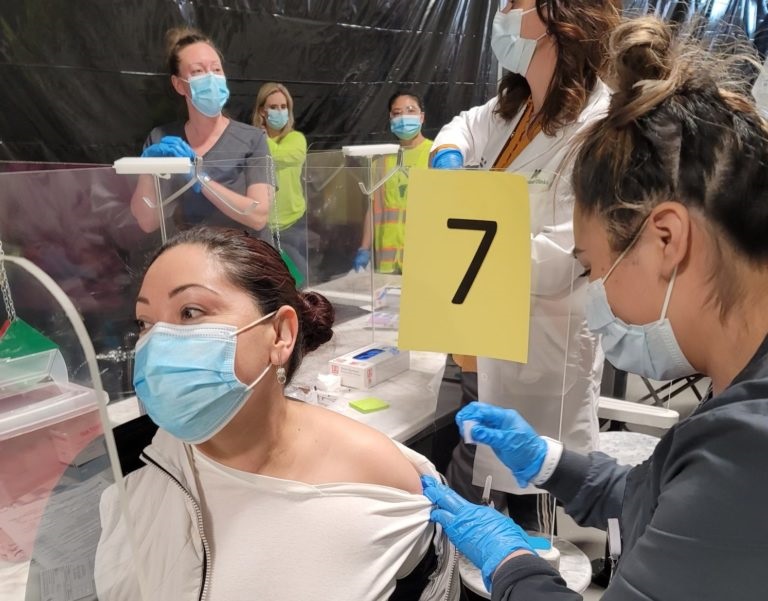 The UFCW has been a leading national voice for frontline workers during this pandemic. Our union recently negotiated a vaccine mandate at Tyson Foods that resulted in a 96 percent vaccination rate among frontline employees and secured the first national paid leave for meatpacking workers at the company, a historic breakthrough in the industry. The UFCW is urging all CEOs to follow this model as they move to enact the policies announced last week.
Our union was also one of the first groups to call for an OSHA ETS in testimony to Congress at House and Senate hearings, calling this paramount to protecting essential workers in grocery stores and meatpacking plants as COVID-19 health risks have continued.
"America's frontline food and retail workers have faced extreme health risks throughout the pandemic," said UFCW International President Marc Perrone in a statement. "Today's action from the Biden Administration, while not going far enough, is a critical first step to keep workers safe on the job as COVID-19 dangers continue. As the largest union for frontline essential workers in grocery stores and meatpacking plants, the UFCW has long said that voluntary workplace safety guidance was not enough and that a clear and enforceable standard was vital to hold companies accountable for the safety of their workers."
"The UFCW is calling on all businesses to negotiate this vaccine requirement with their frontline workers," Perrone said. "Ensuring that workers have a voice in COVID workplace safety policies is critical to guaranteeing these measures are implemented fairly and build the trust and strong consensus needed for these safeguards to be effective. The brutal truth is that this pandemic is far from over. With more than 70,000 new COVID cases every day, companies must do more to keep workers safe. CEOs should be doing everything they can, including paying for PPE, vaccines, testing, and paid leave to put the health and safety of essential workers first. Workers should not have to use money out of their own pockets to pay for critical PPE like masks. The White House and CEOs must work together to find a better way to cover the cost of masks and other critical PPE, instead of shifting the burden onto essential workers already stretched to the breaking point."
"As President Biden's new vaccine policy moves forward, the UFCW will engage the administration and our employers to ensure that essential workers have a strong voice in how this policy is implemented and that paid sick leave is provided so that all workers who get sick can recover," Perrone added. "The UFCW worked together with Tyson Foods to set a new standard with a vaccine mandate that helped get 96 percent of employees vaccinated and proved what's possible when we listen to workers and negotiate the implementation of vaccination mandates fairly and responsibly. All companies must follow this model and ensure that their frontline workers have a voice in how this national vaccine mandate is implemented and have access to the critical PPE and support they need as the pandemic continues."