On March 3, UFCW members participated in a virtual town hall meeting on COVID-19 safety measures and vaccine access for essential workers with Dr. Anthony Fauci, the chief medical advisor to President Biden and director of the National Institute of Allergy and Infectious Diseases at the National Institutes of Health. Dr. Fauci also served as one of the lead members of the previous administration's White House Coronavirus Task Force.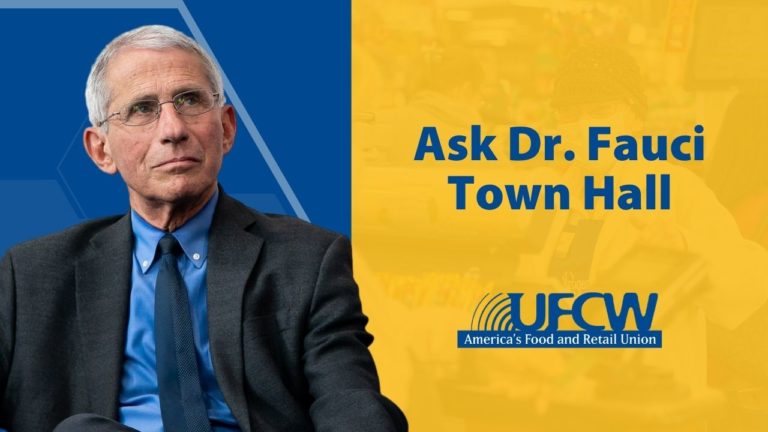 UFCW members Latoya Mathis (Local 75), Kathleen Scott (Local 770), and Gannon Small (Local 227) asked Dr. Fauci about the side effects of the COVID-19 vaccination, and also talked about their concerns about bringing the virus back home to their families even after they get the vaccine, and maintaining social distancing with people who don't wear masks.
UFCW International President Marc Perrone introduced Dr. Fauci and opened the Town Hall meeting.
"Essential workers face a 55 percent higher risk of catching COVID, compared to non-essential workers," Perrone said. "Vaccine access for essential workers is absolutely critical given the daily hazards that they face. Yet, over 35 states are failing to prioritize vaccine access for essential workers in grocery stores, meatpacking plants, even as they continue to face greater health risks."
"We are confident and hopeful that President Biden and Dr. Fauci will help ensure vaccine access is expanded to more essential workers," Perrone added. "As a part of our commitment to help improve vaccine access, UFCW local unions in California, Pennsylvania, Michigan, Illinois, Iowa, Colorado, and Washington have all hosted vaccination sites to serve many of the brave essential workers that our union represents."
In addition to answering questions from our members, Dr. Fauci also addressed the decision by government officials in Texas and Mississippi to end COVID-19 mask mandates.
"I think that was ill-advised," he said. "It is really quite risky to do that for the simple reason that if you look at the amount of infection that is in the community right now, even though the slope is coming down sharply, if you look at the last seven day average, it's plateaued. That's a dangerous sign because when that has happened in the past, when you pull back on measures of public health, invariably you've seen a surge back up. So, we really don't want to claim premature victory. Right now, the level of community spread is between 55,000 and 70,000 cases per day. In order to completely pull back on all public health measures, you want that level to be remarkably low, and 60,000 to 70,000 per day is not low. So, I think that is really risky to pull back on mitigation measures of public health."
You can view the entire town hall meeting here.