On Nov. 15, the UFCW applauded President Biden for signing into law the bipartisan Infrastructure Investment and Jobs Act. Our union also urged Congress to pass the Build Back Better Act and continue the important work of investing in working families across the country.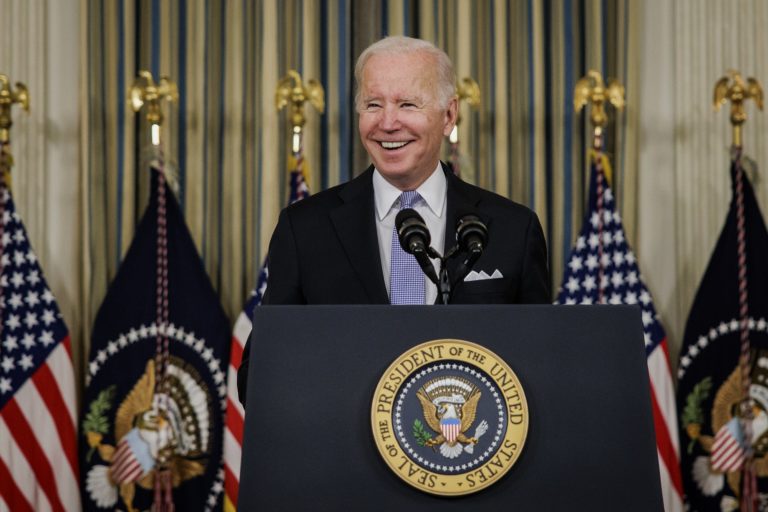 Key Provisions of the Infrastructure Investment and Jobs Act will:
• Support 700,000 good-paying union jobs and grow the economy sustainably and equitably to support working families and help rebuild the middle class.
• Repair and rebuild our roads and bridges with a focus on climate change mitigation, resilience, equity, and safety for all users.
• Upgrade our nation's airports and ports to strengthen our supply chains and prevent disruptions that have caused inflation.
• Deliver clean water to all American families and eliminate the nation's lead service lines.
• Increase high-speed internet access for all Americans, including 30 million in rural areas.
• Strengthen transportation options for millions of Americans and reduce greenhouse emissions through the largest investment in public transit in U.S. history.
"America's frontline workers have been keeping our communities strong throughout the pandemic," said UFCW International President Marc Perrone in a statement. "With this bipartisan infrastructure bill now signed into law, President Biden is delivering on his promise to hard-working families to help create good-paying union jobs and invest in the roads and bridges that are the backbone of our economy."
"Congress must continue to invest in American workers and help rebuild our economy by quickly passing the Build Back Better Act which will expand opportunities for so many workers and families," Perrone added. "By making child care more affordable, this bill will help millions of parents return to work, provide for their families, and strengthen our communities. Protecting the right of workers to stand up for good pay and safe working conditions is essential, and this bill supports workers by ensuring companies will face real financial penalties for union-busting that hurts workers across the country. As the nation's largest private-sector union, the UFCW is calling on our leaders in Congress to step up for America's working families and act to swiftly pass the Build Back Better Act and send it to President Biden's desk for his signature."