Last week, the UFCW applauded President Biden's American Rescue Plan Act of 2021, which was signed into law on March 11, calling it a key step in providing millions of workers and families with the urgent relief they need as the COVID-19 pandemic continues.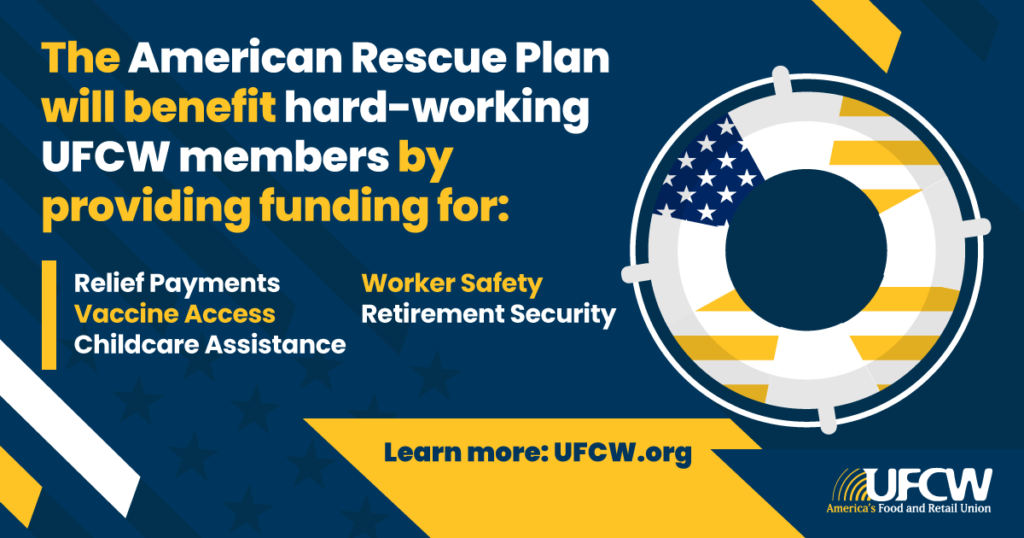 The American Rescue Plan includes many benefits for UFCW members, such as:
Relief Payments: Provides $1,400 in relief payments per person for individuals making less than $75,000 and married couples making less than $150,000, along with additional tax relief for working families with children.
Child Care: Includes $15 billion for the Child Care and Development Block Grant and allows those funds to be used by essential workers.
COVID-19 Testing and Vaccine: Provides funding towards testing, contact tracing, personal protective equipment, and vaccine distribution.
Health and Safety: Provides $100 million for increased workplace protections, including money to support training and enforcement for high-risk work activities through OSHA.
Retirement Security: Strengthens the entire pension system by helping pension plans that are in danger of failing.
"In grocery stores and meatpacking plants across the country, millions of essential workers are on the frontlines as they face the daily threat of COVID infection to protect our food supply during this crisis," said UFCW International President Marc Perrone in a statement. "With the American Rescue Plan, these brave frontline workers will receive the support they have earned as they continue to put their own health at risk so that our families can put food on the table."
Perrone participated in a White House roundtable on the American Rescue Plan with Vice President Kamala Harris and national leaders, and highlighted how this legislation will strengthen workplace safety and help states expand vaccine access for essential workers in grocery stores, meatpacking plants and other businesses hit hard by COVID-19 outbreaks. You can watch the White House roundtable event here.
Materials explaining how the American Rescue Plan benefits our members are available to locals here.