Members of UFCW Local 75, 880 and 1059 in Ohio recently joined U.S. Senator Sherrod Brown and U.S. Representative Joyce Beatty (Ohio-03) for a frontline worker roundtable and called on Congress to pass President Biden's budget and infrastructure plan.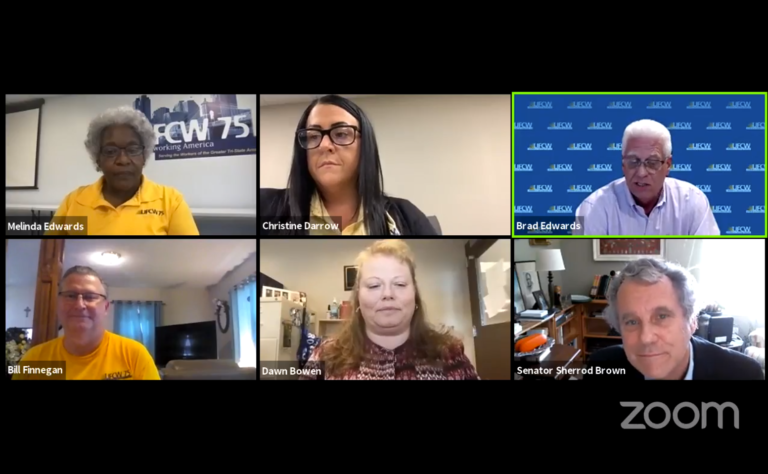 "So many of you have been on the front lines of this pandemic, risking your lives so that Americans can keep food on their table and get their medicine and all their essentials," said Senator Brown. "Corporations try to get positive press off of their workers, while paying them poverty wages and in too many cases, failing to protect their safety. Workers don't need a PR campaign – they need fair pay and protections on the job, and a union like UFCW to fight for them and be their voice."
"Unions like UFCW, and the essential workers they represent, have held this nation together through a year and a half of COVID recovery," said Representative Beatty. "It was an honor to join my union brothers and sisters, and my dear colleague Senator Sherrod Brown for this roundtable, and to share everything we are doing in Washington to push for safer, fairer workplaces, livable wages, and everything else the UFCW fights for."
During the event, UFCW members highlighted how President Biden's plan will create good Ohio jobs and address issues like paid sick leave, the Child Tax Credit, and protect the right of workers to unionize for better working conditions as the pandemic continues.
"So many Ohio essential workers live paycheck to paycheck and they cannot afford to lose a day's pay when they are sick," said Melinda Edwards, a Kroger grocery worker in Cincinnati and a member of UFCW Local 75. "Many Ohio workers have been forced to take unpaid time off during the pandemic to care for a loved one. Working people like me face a real challenge when having to take unpaid leave to care for those we love. I am asking Congress to help Ohio working families by making sure the Build Back Better bill includes paid time off work in order to take care of our family during this ongoing pandemic."
"This past year has been an eye-opening experience as UFCW Local 75 has met with Ohio essential workers across the state," said Bill Finnegan, a Campbell's Soup plant worker in Napoleon and member of UFCW Local 75. "People need workplace protections, good wages, and fair schedules. I am asking Congress to ensure that the final budget reconciliation bill strengthens the right of Ohio workers to unionize so that worker voices can be heard and we can help make work better for all of America's workers."
"As a single mom, I have to be very careful about how and where we spend our money," said Christine Darrow, an Acme grocery worker in Parma and a member of UFCW Local 880. "The Child Tax Credit has had a huge impact on my family, helping me provide more for my son. And I know the Child Tax Credit is helping families across Ohio provide for their children the life that they deserve. If this essential lifeline could be extended, that could make a big impact on our lives. Congress should make the Child Tax Credit permanent in order to help all Ohio working families."
"As a mother and essential worker, I've faced so many challenges during this pandemic," said Dawn Bowen, a Kroger grocery worker in Galloway and member of UFCW Local 1059. "My managers tried to get me to go to work, although my son tested positive for COVID-19, but my union had my back and helped me deal with the added stress of having to fight for the benefits I have earned. I urge Congress to pass the grant program for food workers in the reconciliation package to help us with the continued out-of-pocket expenses we have had during the pandemic."
You can view the video of the Ohio frontline worker roundtable event here.