On May 3, UFCW International representatives and members of three UFCW locals met with officials from the White House Office of Management and Budget (OMB) regarding the need for an OSHA standard to protect workers from COVID-19.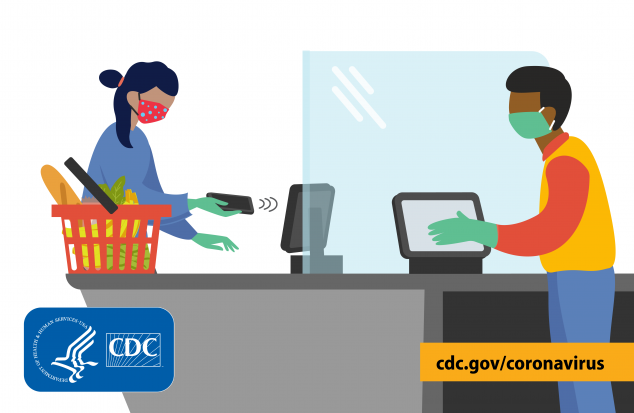 The OSHA standard would protect most workers in private industries in the United States from the risks of contracting COVID-19 at work. It is anticipated that the standard will require employers to upgrade and improve ventilation and continue to distance workers. In grocery stores, this would mean limiting the number of customers in the stores to provide, as much as possible, six feet of distance between workers and customers. All employers will be required to provide personal protective equipment; conduct testing for COVID-19; and require quarantine for workers who have tested positive for COVID-19.
The UFCW has been calling for OSHA to issue an emergency temporary standard to protect workers from COVID-19 since early in the pandemic. Under the previous administration, OSHA never did that. Thousands of workers in UFCW industries have contracted COVID-19, and the UFCW has lost hundreds of workers in meatpacking, poultry, retail food and other industries as a result of contracting the virus.
In January, an executive order by President Biden ordered OSHA to review the need for a standard, and based upon that need, told OSHA to write and issue the standard. This standard has been drafted, but has been delayed and the subject of heavy lobbying by both the meat and retail grocery industries.
The last step for issuing this standard is for the White House OMB to review and hear from interested parties or stakeholders. On May 3, Melanie Pilkington, a member of UFCW Local 400 who works for Giant Food in Charlottesville, Va.; Dana Jahn, a member of UFCW Local 222 who is a business representative at Smithfield Foods in Denison, Iowa; and Franky Palomares, who is a UFCW Local 2 member and steward and a maintenance worker at Cargill in Dodge City, Kan., had that opportunity.
OMB officials were told that COVID-19 infections are still continuing in workplaces, and in workplaces where vaccinations rates are still low, the risk of exposure to the virus continues.
"In order to keep the most employees safe as possible, there needs to be a standard set for every workplace," said Pilkington, who contracted COVID-19 and was out of work for several weeks. "I hope this helps the White House understand how close we work together and some of the challenges we face. By providing those of us who were infected with immediate sick leave, we may have prevented this from spreading so rapidly."
You can learn more about President Biden's Executive Order on Protecting Worker Health and Safety here.