The UFCW has launched a new holiday shopping #ThankAWorker campaign to show support for the men and women keeping stores open and our economy strong as the pandemic continues.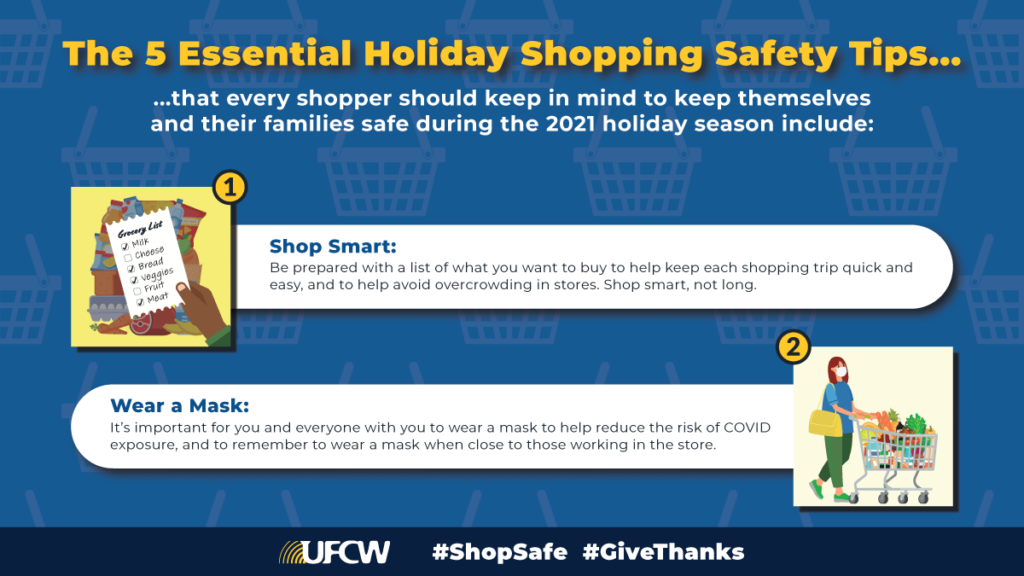 As part of the holiday campaign, the UFCW is sharing five holiday shopping tips to make every trip to the store better for both customers and essential workers as follows:
1. Plan Your Trip – Be prepared with a list of what you want to buy to help keep each shopping trip quick and easy and avoid overcrowding in stores.
2. Wear a Mask – As COVID risks continue, it's important for everyone to do their part to stay safe and protect both themselves, their families, and workers.
3. Share the Space – Holiday shopping means stores can get busy and crowding can make it harder to safely social distance. Do your part by allowing plenty of space between yourself and other customers or workers.
4. Ask for Help – Retail workers can assist you if you are having trouble finding something on your shopping list. Look for the nearest worker and let them know how they can help.
5. Thank a Worker – Holiday shopping can be stressful for everyone, but remember that every worker is doing their best and stepping up to help keep stores open for us. Remember the spirit of holidays and be sure to let workers know you're grateful for all they're doing.
The UFCW is encouraging shoppers to take a selfie of themselves following the five holiday shopping tips and post with the hashtag #ThankAWorker to help show their gratitude to all of our country's essential workers.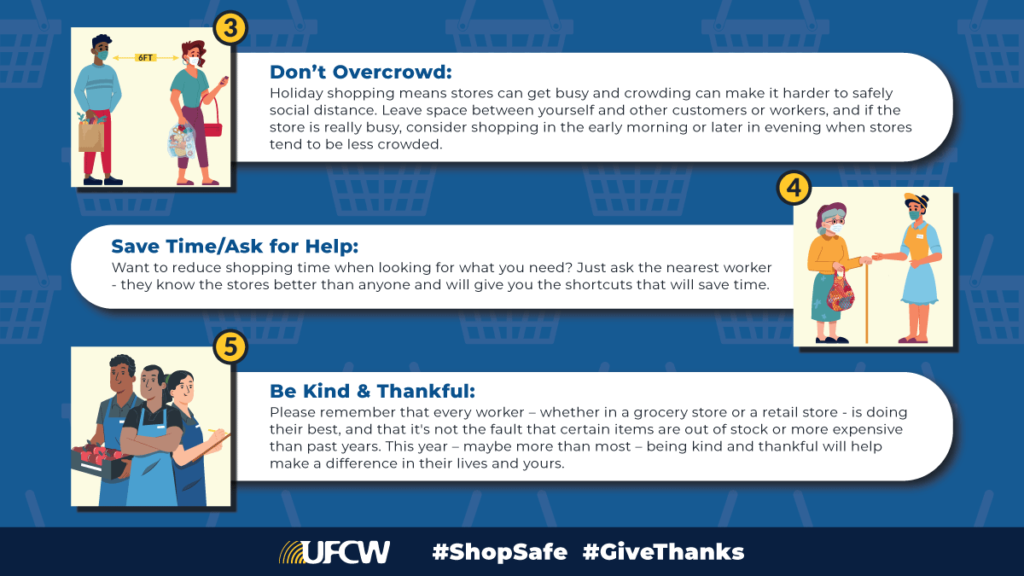 "As holiday shopping begins this Thanksgiving, essential workers are continuing to step up on the front lines of the pandemic to keep stores open and help customers get the food and presents they need for their families," said UFCW International President Marc Perrone. "America's essential workers are facing the first holiday season with the COVID-19 Delta variant and cases continue to increase across the country. With COVID risks continuing, inflation driving prices up, and supply chain issues making it harder for retail stores to keep shelves stocked, we know shopping will be stressful this year. As America's largest retail union, the UFCW is launching a new #ThankAWorker campaign to encourage customers to their part this holiday season to stay safe and make the shopping experience better for everyone."
The Communications Department has created a full range of shareable digital #ThankAWorker campaign graphics for locals here to help spread the word abut this campaign on social media.