On Sept. 21, members of UFCW Local 1473 joined U.S. Senator Tammy Baldwin for a frontline worker roundtable and called on Congress to pass President Biden's budget and infrastructure plan. Members of UFCW Local 75, 880 and 1059 in Ohio held a similar event with U.S. Senator Sherrod Brown and U.S. Representative Joyce Beatty (Ohio-03) on Sept. 10.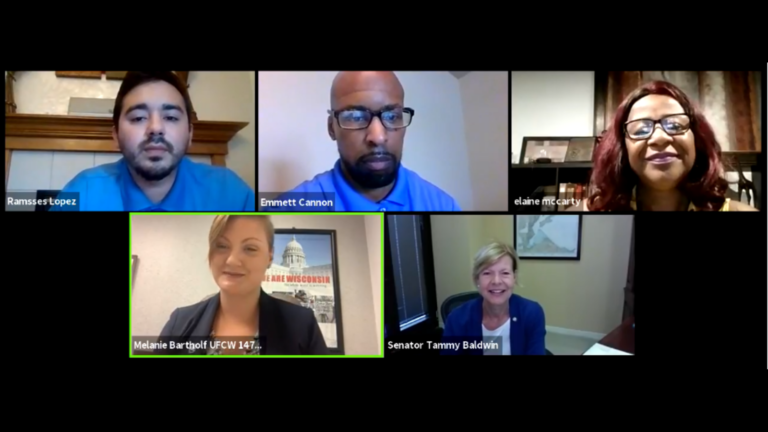 "Our Build Back Better Budget is focused on lowering costs for families and creating jobs," said Senator Baldwin. "This legislation is focused on the economic security of working families and moving our economy forward. United Food and Commercial Worker members have been on the front lines this whole pandemic and you essential workers have not been treated as essential. I hope that stops now, as we begin our work to Build Back Better. I will continue pressing for workplace safety and fairness moving forward, and my door is always open."
During the event, UFCW members highlighted how President Biden's plan will create good jobs in Wisconsin and address issues like paid sick leave, the Child Tax Credit, and protect the right of workers to unionize for better working conditions as the pandemic continues.
"I recently became a parent for the first time to my precious daughter, Emery," said Ramsses Lopez, a OSI worker in Fort Atkinson. "Earlier this year, Congress passed the Child Tax Credit which provides up to $3,600 for families with children. This funding allows my family to make sure that we have everything we need to take care of our daughter, from nutritious food to clothing. If this middle-class tax cut could be extended, that would make a big impact on so many working families' lives, including mine. Congress should make the Child Tax Credit permanent to help all Wisconsin working families."
"Working on the front lines in food production has been difficult throughout the pandemic and this pandemic is not over," said Emmett Cannon, a Hormel Foods plant worker in Beloit. "We wear masks and face shields. We socially distance as much as possible. We have sanitation stations. With my union's support, we were able to negotiate with Hormel to provide these safety measures to help slow down the spread of COVID-19 in our plant. It is heartbreaking knowing that other food production plants that are not unionized won't get this opportunity. I am asking Congress to ensure that the final budget reconciliation bill strengthens the right of Wisconsin workers to unionize."
"My coworkers and I have shown up to work every day throughout the pandemic not knowing if the customer we are helping is COVID positive or vaccinated," said Elaine McCarty, a cake decorator at Metro Market in Brookfield. "In all honesty, I come to work every day to serve our community while being afraid of catching COVID-19 and passing it on to any of my 13 grandchildren. I know that many of my coworkers feel the stress I am feeling every day and we're all continuing to deal with more out-of-pocket expenses because of the pandemic. I hope Congress does the right thing by passing the grant program for food workers to help us with the continued expenses we have had during the pandemic."
You can view the video of the Wisconsin frontline worker roundtable event here.