This year, the UFCW joined with workers from around the country, in a variety of industries, who stood together for a better life. A list of organizing victories is included in this article.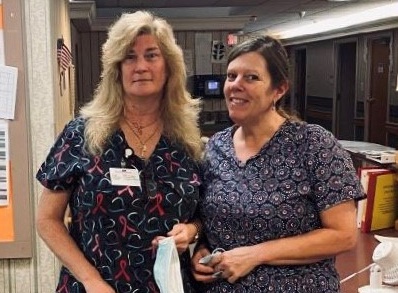 Silvia Molina, who works at Lyle Cleaning Service in Baltimore, Md., joined UFCW Local 27 in January to stand up for better pay and a stronger voice in the workplace.
"It's a great feeling to know that someone will always have my back in the workplace!" said Molina.
Bonnie Nyema, a nursing assistant at Villa at Osseo nursing home in Osseo, Minn., joined UFCW Local 663 in August for the better wages and benefits that come with a union contract.
"We came together to join our union because we are hoping to change the pay rate, the staffing, and instill more dignity and respect for everybody because those are the things we don't have a voice about here now," said Nyema. "We're not asking for anything fancy or big, just treat us like human beings and things will go well. Now, with a union, we will have a voice."
Here are the organizing victories that appeared in OnPoint this year:
Connecticut Public School Workers Join UFCW Local 371
Cresco Labs Workers Join Local 328 in Massachusetts
Health Care Workers in Connecticut Join Local 371
DC Holistic Wellness Workers Make History by Joining Local 400
Rhode Island Cannabis Workers Make History by Joining Local 328
F.B. Packing Workers Join Local 1445 for a Better Life
Local 367 Is Growing Our Union Family
Minnesota Health Care Workers Join Local 663 for a Better Life
Ohio House Democratic Caucus Staff Make History by Joining Local 75
More Cannabis Workers Join Local 1445
Washington Grocery Workers Join Local 21 for a Better Life
Pennsylvania Nursing Home Workers Join RWDSU/UFCW
More Kaiser Permanente Nurses Join Local 7 for a Better Life
More Cannabis Workers Join Local 1445 for a Better Life
More Workers at Lourdes Medical Center Join Local 21
Massachusetts Cannabis Workers Join Local 1445
Hospital Workers in Washington Continue to Join Local 21
Cannabis Workers in Chicago Join Local 881 for a Better Life
New Mexico Baristas Join Local 1564 for a Better Life
Allied Beverage Workers in New Jersey Join Local 1D
Minnesota Co-op Workers Join Local 1189 for a Better Life
Mississippi Hearthside Food Solutions Workers Join Local 1529 for a Better Life
Local 700 Grows Membership Amid Crisis
Albertsons Pharmacy Technicians in Wyoming Join Local 7 for a Better Life
IRI Workers in New York Join RWDSU/UFCW for a Better Life
Air Force Base Barbers Stand Up for a Better Life
A Victory for King Soopers Workers in Colorado
McNally Jackson Workers in New York Stand Together for a Better Life
More Zara Workers in New Jersey Join Local 888
Summit Pacific Hospital Workers in Washington Join Local 21
Hazardous Waste Workers in Illinois Join Our Union Family for a Better Life
Providence Hospital Workers Continue to Join Local 21 in Washington
Albertsons Deli Workers in Idaho Stand Together for a Better Life
Washington Counseling Center Workers Join Local 21 for Better Staffing, Pay
New Jersey Workers Join Local 312 to Strengthen Health Care Jobs
California Safeway Workers Unite to Strengthen Grocery Delivery Jobs
How UFCW Is Supporting Good Jobs for Cannabis Workers Nationwide
Chicago Area Cannabis Workers Make History by Joining Local 881
Baltimore Cleaning Service Workers Join Local 27 for a Better Life
Bob's Discount Furniture Workers Protect Good Jobs in New Jersey