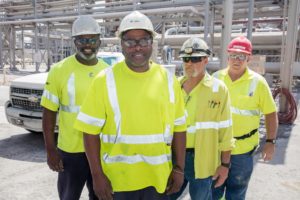 On Feb. 19, a group of 100 workers at Veolia Environmental Services in Sauget, Ill., joined the ICWUC/UFCW for the better pay, benefits and safety protections they have earned and deserve.
The workers, who are in charge of disposing of hazardous waste materials, wanted to join our union family because they were concerned about wages, benefits, health and safety issues, as well a hostile work environment.
Veolia Environmental Services is a division of Veolia Environnement, a French transnational company that has operations in 35 countries and specializes in the management, treatment and disposal of waste. Workers at the Sauget facility tried to organize in the 1990s, but were unsuccessful. This time, in spite of the company's union-busting tactics, these workers were determined to join our union family, and with the vote on Feb. 19, they succeeded.
"It is always a joy to see workers come together," said ICWUC/UFCW Organizer Lance Heasley. "Seeing them realize that they are stronger together is a credit to the organizing committee, and getting 93 percent of the workforce to stand together and show their solidarity is amazing! That just proves that the labor movement is still alive in spite of corporate America's war on labor."
"On behalf of the employees of Veolia Sauget, I would like to thank Lance Heasley, Robert Craft and Ricky Lawrence from the ICWUC," said Terry Ball, who has worked for Veolia Environmental Services for 31 years. "From the first time we met with them, we felt as though we were part of the brotherhood in the union. They displayed professionalism, treated us with respect, listened to our concerns and answered the tough questions with honesty. Those are just a few examples of what earned our trust in the union."
"We tried to organize back in 1998," Ball added. "Things didn't go so well, and we lost by 10 votes. That did not happen this time around. It was all business, which is what I will attribute to a slam dunk victory with 90 to 7 "YES" votes. Union YES!"