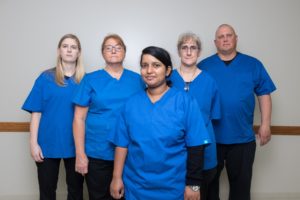 A new group of registered nurses who are post-acute care utilization management coordinators at Kaiser Permanente in Aurora, Colo., recently joined UFCW Local 7 for the better wages and benefits that come with being a member of our union family. After several months of negotiations during the COVID-19 pandemic, these dedicated health care professionals emerged with a solid agreement that means wage increases for all, as well retroactive pay to the time that their union authorization cards were signed.
UFCW Local 7 has a neutrality agreement with Kaiser Permanente that supports a union's attempt to organize its workforce, including card check, union representative access, and a strong dispute procedure. This new group of health care professionals was organized under the terms of this agreement.
The new members of UFCW Local 7 will join a unit of approximately 2,000 health care professionals employed by Kaiser Permanente with a contract that includes wage increases of up to 23 percent from their prior rates. They will also be able to immediately participate in a career ladder that affords the opportunity for another 5 to 7 percent increase in wages. Additionally, they will be covered by industry-leading job protection language, strong continuing education and tuition reimbursement benefits, an industry leading defined benefit pension plan, fully paid active medical benefits, an excellent retiree medical benefit plan, and many other important improvements to benefits and working conditions.
"Union representation is not widespread here in Colorado, but should be," said one of the new members. "As a registered nurse, the focus is on your patient. So, I am happy I am now officially a Local 7 union member. When I need the focus to be on me as a worker, I know the union can provide me with the support needed with work-related topics and the security needed for work-related processes."