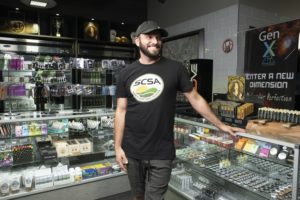 Thanks to hard-working UFCW locals and organizers across the country, our union family is supporting good jobs for thousands of workers in the cannabis industry.
In recent months, UFCW locals have been building worker power with historic victories for cannabis workers in New England, the Midwest, and Mid-Atlantic.
• On Jan. 14, workers at Cresco Labs in Joliet, Ill., joined UFCW Local 881 and made history by becoming the first cannabis workers in Illinois to achieve a union bargaining unit through an election.
• On Jan. 7, workers at Vireo Health International's wholly-owned subsidiary MaryMed, LLC in Hurlock, Md., joined UFCW Local 27 and became the first in the state's cannabis industry to reach an agreement on a union contract. In addition to Maryland, our union represents Vireo Health workers in Minnesota, New York and Pennsylvania.
• And last November, more than 100 Massachusetts workers at Sira Naturals, Inc. joined UFCW Local 1445 and became the first in the state's cannabis industry to join our union family when the employer's labor peace agreement was implemented.
Cannabis workers know the value and benefits that come with joining our union family. Adam Schneider, who helps lead production at Sira's Milford, Mass., facility and was one of the company's earliest employees, voted to join UFCW Local 1445 because it would offer workers protections and representation in a fast-changing industry. "Now if anything happens to me, instead of going to the higher-ups and hoping they listen, I can go the union and have them fight for me. Someone has your back," he said.
The UFCW has been a strong champion for legislation that empowers cannabis workers and ensures they are treated with the respect and dignity they deserve. The International's Organizing Department and the Legislative and Political Action Department have been instrumental in helping to pass legislation that paves the way for effective union organizing.
The UFCW has helped to achieve cannabis legalization in states like New York, California, Illinois, Michigan and New Mexico. Our union has also secured strong bargaining agreements for cannabis workers in California, Oregon, Washington, New Mexico, Nevada, Minnesota, Iowa, Pennsylvania, New York, New Jersey, Maryland and Delaware. And the UFCW is continuing its hard work for cannabis workers as new bargaining progresses in Illinois, Massachusetts, and Hawaii.
As the UFCW builds on its exclusive cannabis jurisdiction from the AFL-CIO, the Cannabis Workers Risings Campaign has drafted and is implementing – with input and support from key International departments and regions – a 50 State Strategic Organizing Plan. Highlights of that plan include:
• Making targeted investments in political and organizing campaigns in cannabis;
• Prioritizing equity and diversity in cannabis ownership and employment; and
• Strengthening cannabis organizing and bargaining with borrowed personnel and SPURs.
In 2020, the UFCW is ready to continue our union's work to empower cannabis workers and ensure this rapidly growing industry is creating the good jobs our families and communities need. We will achieve this by strengthening coordination between locals, regions and the national campaign, as well as providing staff development and industry-specific training. Stay tuned for more information about an Inaugural International Cannabis Conference and Training to help us put this plan into action.
Locals can get more information about our efforts to improve the lives of cannabis workers by contacting Director of Organizing Todd Crosby at tcrosby@ufcw.org or Executive Assistant to the Director of Organizing Jeff Ferro at jferro@ufcw.org.