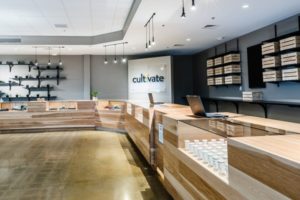 Cannabis workers at Cultivate Holdings in Leicester, Mass., recently voted to join UFCW Local 1445 for the better wages and benefits that come with a union contract. These workers joined our union family because they wanted to improve working conditions through collective bargaining, achieve standardization of their relationship with management, and have access to better health care.
Cultivate Holdings workers celebrated this hard-earned win as they join our union family.
"This is just not a victory for cannabis workers at Cultivate, but for all cannabis workers. We've set a precedent by working collectively that enables us not only to survive, but to thrive," said Craig Chaplin.
"I'm very happy about this union because it feels good to believe in this job as a long-term career, especially now that the industry has been classified as essential. I want to grow in my job while we grow in the field," said Amy Hopkinson.
"The UFCW applauds Cultivate for its commitment to agricultural workers and is justifiably encouraged by their inclusion as part of those workers who will benefit from organizing this emerging industry," said UFCW Local 1445 Secretary-Treasurer Fabricio DaSilva.