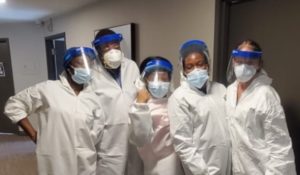 On August 26, health care workers at Villa at Osseo nursing home in Osseo, Minn., joined UFCW Local 663 for the better wages and benefits that come with a union contract. The Minnesota Bureau of Mediation Services certified the card check process.
Villa at Osseo management signed a voluntary recognition agreement with UFCW Local 663 on August 20 that recognizes the union as the exclusive representative of employees of the worker units. These new members will soon begin the process of negotiating their first union contract.
The new members of UFCW Local 663 will be in two bargaining units that include 49 full- and part-time workers. One unit will consist of licensed practical nurses and the other unit will consist of certified nursing assistants, nursing assistants-registered, trained medication aides, dietary aides, and recreational services assistants.
"We came together to join our union because we are hoping to change the pay rate, the staffing, and instill more dignity and respect for everybody because those are the things we don't have a voice about here now," said Bonnie Nyema, a nursing assistant at Villa at Osseo. "We're not asking for anything fancy or big, just treat us like human beings and things will go well. Now, with a union, we will have a voice."
"We welcome workers at Villa at Osseo to the UFCW Local 663 union family," said UFCW Local 663 President Matthew Utech. "We're looking forward to building a better life together as a union. Now more than ever, it is important to join together in the workplace and form a union to protect, defend and build upon our rights in the workplace."
"As Tier 1 essential employees, workers at Villa at Osseo didn't ask to be in the spotlight during the COVID-19 global pandemic, but that is exactly where we are," Utech added. "I admire their determination to fight together for more. Our union has a place for any worker that wants to reach higher for better wages, benefits and workplace protections."