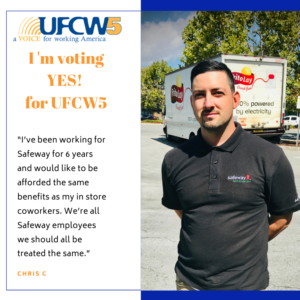 More than 200 Safeway.com drivers helping to deliver online grocery orders in the San Francisco Bay area recently voted in favor of UFCW Local 5 union representation in an election conducted by the NLRB.
The six-month organizing campaign was driven by the workers' desire to enjoy the same conditions and benefits that Safeway retail workers receive and just as important, a strong voice on the job. The drivers were concerned about about unfair discipline, short-notice scheduling changes, and a lack of any meaningful way to resolve workplace disputes. These workers ultimately decided that forming a union was the best way to solve these problems and make sure these jobs were good jobs that would help them support their families.
"We knew what we needed to do," said Safeway.com driver Daniel Olson. "A unionized workforce is not just good for employees, but for customers and ultimately the company."
As Safeway continues to expand its e-commerce platform, the victory is also critical to the interests of in-store Safeway employees, noted UFCW Local 5 Strategic Campaign Director Jim Araby.
"As major food retailers like Safeway continue to increase investment in e-commerce, delivery of food from the store to the door will continue to expand. In order to maintain and build power for UFCW members, the union must organize and represent workers across the retail chain," Araby said.
Now that the election results have been certified, the Safeway.com drivers will work with UFCW Local 5 representatives to develop contract proposals in anticipation of negotiations this year.