UFCW members stood together to negotiate strong contracts this year, and some celebrated the benefit of having a first union contract. A list of bargaining victories is included in this article.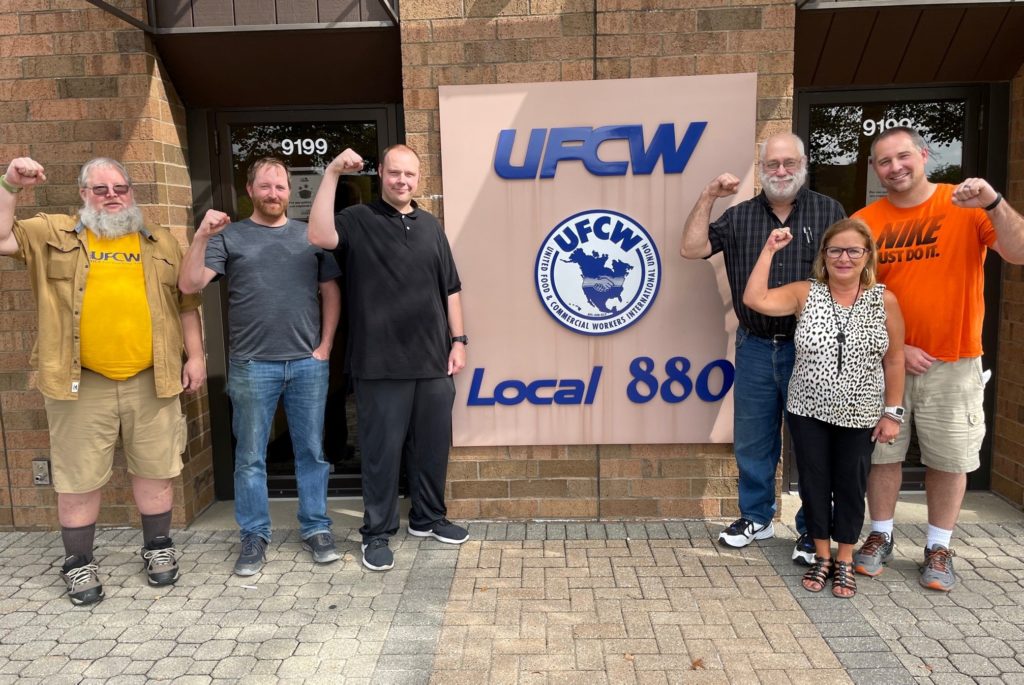 On Jan. 8, Chris Chavez and other members of UFCW Local 5 who are Safeway.com drivers in the San Francisco Bay area ratified their first union contract. This victory took place as Albertsons, the parent company of Safeway, announced plans to fire thousands of non-union grocery drivers in California who are a critical lifeline to customers as COVID-19 cases skyrocket statewide.
The 250 workers joined UFCW Local 5 because they wanted the same good working conditions and benefits received by UFCW members who are Safeway retail workers. The three-year contract, which was ratified by an overwhelming margin, includes guaranteed minimum hours for full-time workers (32 hours) and limits on the use of third-party applications like DoorDash. The contract also includes an increase in employer contributions for health care benefits, the creation of a driver-led health and safety committee, and raises the salary cap from $19 per hour to $22 per hour.
"With the ratification of this contract, we were able to increase our benefits and hours and protect our jobs in this uncertain time," said Chavez, a driver for Safeway.com.
On June 17, Molly Balbuena and other members of UFCW Local 328 who work at Cresco Labs in Fall River, Mass., ratified a first union contract that raises wages and improves benefits. Cresco Labs is one of the largest multistate cannabis operators in the country and operates a cultivation and processing facility in Fall River, as well as Sunnyside Dispensary.
These workers joined our union family in November of 2020 because they wanted to address issues relating to low pay and the lack of workplace protections. The new three-year contract addresses those issues by securing guaranteed pay increases, which will amount to up to an 18.7 percent pay increase over the next three years. The contract also includes fair scheduling policies, workplace protections, and protects retirement benefits and employee discounts.
"I am so proud of our hard-working team at Cresco for sticking together and securing this victory," said Balbuena, a three-year employee of Cresco Labs and a member of the negotiating team. "We are so excited to have secured the better future and collective voice we were looking for when we formed our union with the UFCW. We urge all cannabis workers to come together and say, 'Union Yes!'"
Shawn Williams and over 100 members of UFCW Local 880 who work at the Save A Lot Distribution Center in Austinburg, Ohio, ratified a first contract on Oct. 9 that raises wages and improves benefits.
These workers joined UFCW Local 880 in October of 2019 because they were concerned about insufficient benefits and wanted stability and a voice in the workplace. Their unionization efforts were met with resistance from their employer, including a counteroffer on wages and benefits if the workers decertified from our union. However, the workers, who are employed as loaders, fork lift operators, clerks, inspectors, auditors, order selectors, and sanitation, maintenance, inventory control and quality insurance workers, stood their ground.
The 26-month contract includes the largest wage increases in 18 years. The contract also includes increased paid time off, and a seniority system based on length of service or time worked. In addition, the contract includes a call-in pay guarantee for workers called in to work at a time other than their regular shifts; a grievance and arbitration procedure; a union security agreement; and the formation of a committee to solve issues before they become problems at the distribution center.
"This contract finally says enough is enough," said Williams, who is an order selector at the distribution center. "In 16 years at the Save A Lot Distribution Center, I've only watched the benefits decline year after year. We were able to not only stop the bleeding, but secure more paid time off, the largest wage increase in 18 years, and the ability to hold the company accountable." 
Here are the negotiating articles that appeared in OnPoint this year:
Kraft Heinz Workers in Delaware Stand Together for a Better Contract
Pilgrim's Pride Workers in Texas Ratify First Union Contract
Nebraska Meatpacking Worker Paid Leave Approved in Historic Contract
Local 400 Lipton Tea-Unilever Workers in Virginia Ratify New Contract
New Heaven Hill Contract Preserves Good Kentucky Jobs
Local 152 Health Care Workers Ratify New Contract
Ohio Local 880 Grocery Distribution Workers Approve First Union Contract
CVS Workers in California Stand Together for a Better Contract
Colorado Health Care Workers Approve First UFCW Union Contract
New Jersey Health Care Workers Strengthen Pay in New Contract
Local 2 Pork Processing Workers Stand Together for a Better Contract
UFCW, Tyson Foods Make History With New Paid Sick Leave Agreement
Illinois Kroger Members Ratify New Local 700 Contract
Virginia Kroger Workers Ratify New Contract
Pak 'N Save Grocery Workers Stand Together for a Better Contract
Georgia Kroger Workers Ratify New Contracts
Local 1776 Grocery Contract Approved in Pennsylvania, West Virginia
New UFCW Minnesota Agreement on Instacart Strengthens Union Grocery Jobs
New Jersey Workers at Goya Foods Stand Together for Better Pay and Benefits
New Contract Strengthens Pay and Benefits for Grocery Workers in California
Local 400 Giant Delivers Workers Ratify New Contract
Massachusetts Cannabis Workers Ratify First Contract With Local 328
Minnesota Grocery Workers Stand Together at Local 663 for Better Contracts
New Jersey Health Care Workers Ratify New Contract With Local 152
South Dakota Smithfield Workers Stand Together for a Better Contract
UFCW Makes History With New Cannabis Contract
Local 700 Indiana Conagra Dairy Workers Stand Together for a Better Contract
Local 152 New Jersey Poultry Workers Ratify New Contract
Local 7 Ohmgro Pure Fire Cannabis Workers Ratify First Union Contract
Tyson Foods Workers in Iowa Stand Together for a Better Contract
Local 152 Monmouth County Workers Stand Together for a Better Contract
Local 7 Albertsons Pharmacy Technicians Ratify First Union Contract
Local 1776 Cargill Workers Stand Together for a Better Contract
Local 152 Assisted Living Workers Stand Together for a Better Contract
Local 1189 River Market Co-op Workers Ratify First Union Contract
Local 152 Goya Foods Workers Stand Together for a Better Contract
Local 881 Cresco Labs Cannabis Workers Ratify First Contract
Local 152 Beverage Workers Ratify New Contract
Local 5 Safeway Grocery Drivers Ratify First Union Contract
Local 152 Assisted Living Workers Ratify New Contract