On Nov. 5, over 400 members of UFCW Local 540 who work at the Pilgrim's Pride plant in Waco, Texas, ratified a first union contract that includes the largest pay raises in plant history. The three-year contract also includes the creation of the first-ever union safety committee, stronger overtime protections, and provisions to preserve strong health care and retirement benefits. These hard-working men and women joined UFCW Local 540 in July 2021.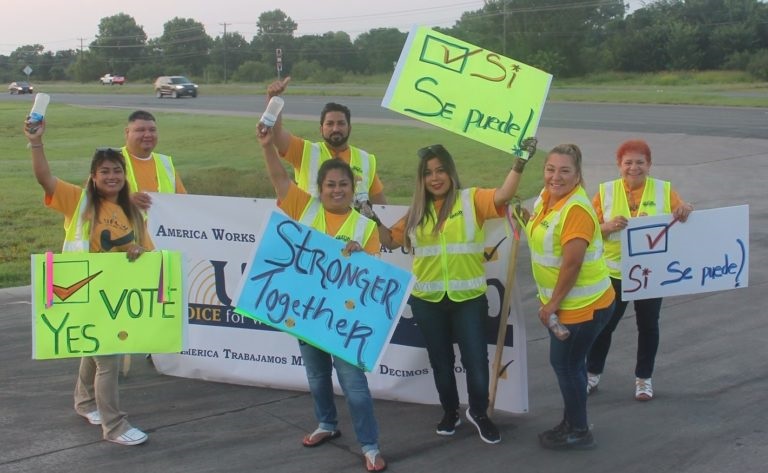 Key provisions of the new contract include:
• Pay increases of up to $4.00 per hour as part of their first union contract.
• Health care coverage preserved as part of commitment to employees and families.
• Retirement plan security ensured as the company maintains this long-term investment.
• Overtime pay enhanced to provide higher pay daily instead of requiring employees to meet a 40-hour weekly threshold before overtime kicks in.
• Union safety committee created in historic first to ensure workers have a voice in the push to strengthen workplace protections as the pandemic continues.
• Job promotion opportunities expanded with a new open bidding process that enables all employees to apply for vacancies and prioritizes seniority and qualifications.
"With today's union contract, Texas poultry workers at Waco Pilgrim's Pride have secured the highest pay raises in plant history and created the first-ever union safety committee — sending a powerful message that workers have a stronger voice on the job when they stand together," said UFCW Local 540 President Johnny Rodriguez in a statement.
"Helping Texas families put food on the table during the pandemic, these brave frontline workers stepped up for us when we needed them most and have been essential to keeping our communities strong," Rodriguez said. "Just four months after choosing to unionize, these hard-working men and women are achieving results that will help them support their families, build strong careers, and inspire many more Texans to stand up for the good pay and benefits they have earned."
"As the union for these Texas frontline workers, UFCW Local 540 was proud to stand with our union's members at Pilgrim's Pride here in Waco to secure this strong contract," Rodriguez added. "Ensuring these jobs continue to be good Texas jobs for working families is the best way to honor essential workers."