On Oct. 23, UFCW Local 23D and the Heaven Hill distillery in Bardstown, Ky., reached a fully recommended agreement on a five-year contract, ending the six-week strike. The new contract achieved key priorities, such as preserving affordable health care, increasing pay, maintaining overtime provisions, and strengthening retirement security.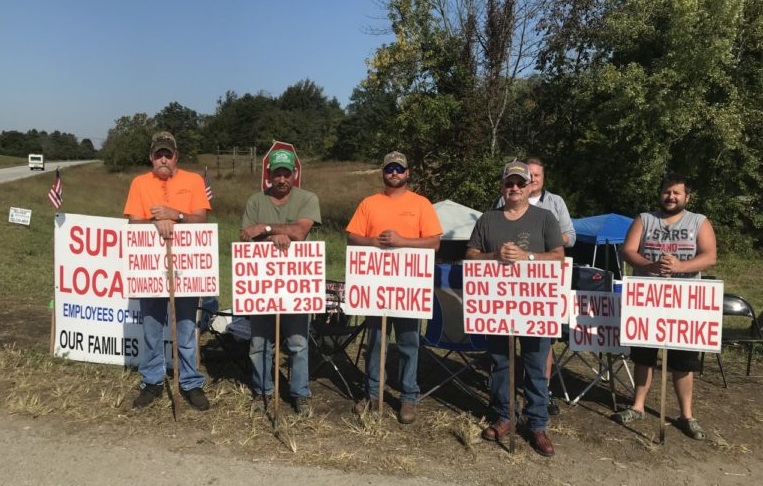 This new agreement is a victory for the over 400 Heaven Hill workers, who went on strike to protest a proposed contract that would have reduced wages and benefits. The proposed contract also lifted a cap on health insurance premium increases that would have reduced take-home pay, cut overtime, and drastically changed work schedules.
"This new Heaven Hill contract is a strong reminder of what is possible when Kentucky workers stand together to protect the good jobs that keep our economy growing and our communities and families strong," said UFCW Local 23D President Matt Aubrey in a statement.
UFCW Local 23D had been in negotiations with the company for nearly two months to reach an agreement for these Kentucky workers even as Heaven Hill reported $500 million in annual revenue. In July 2021, the union called for a federal mediator to join the process to help to advance talks with the company. On Sept. 9, Heaven Hill workers voted on the company's latest proposal and 96 percent of workers rejected the contract proposal. The strike began on Sept. 11 at midnight.
Key provisions of the five-year contract include:
• Health care affordability protections by maintaining industry-leading health benefits and increasing the employer contribution by 4.25 percent.
• Pay increases of up to $3.09 per hour over the life of the contract.
• Overtime pay protections by maintaining the previous number of minimum hours required.
•           Fair scheduling maintained with the traditional 40-hour work week on Mondays through Fridays to ensure employees are not forced to work on weekends.
• Vacation benefits and paid holidays increased to help workers spend more time with their families.
• Retirement savings strengthened by increasing the 401(k) match by the company from 7 percent to 8 percent.
"With the strong support of the Bardstown community, including many local businesses and community leaders, these hard-working men and women at Heaven Hill courageously stood up to fight for what all Kentucky families want – good jobs, affordable health care, and to be treated right by the company they made a success," Aubrey added. "Together, these hard-working Kentuckians preserved the affordable health care, overtime pay, and fair scheduling that enables them to balance work with supporting their families."