Over 180 members of UFCW Local 881 who work at Cresco Labs in Joliet, Ill., recently ratified a first union contract that raises wages and improves benefits.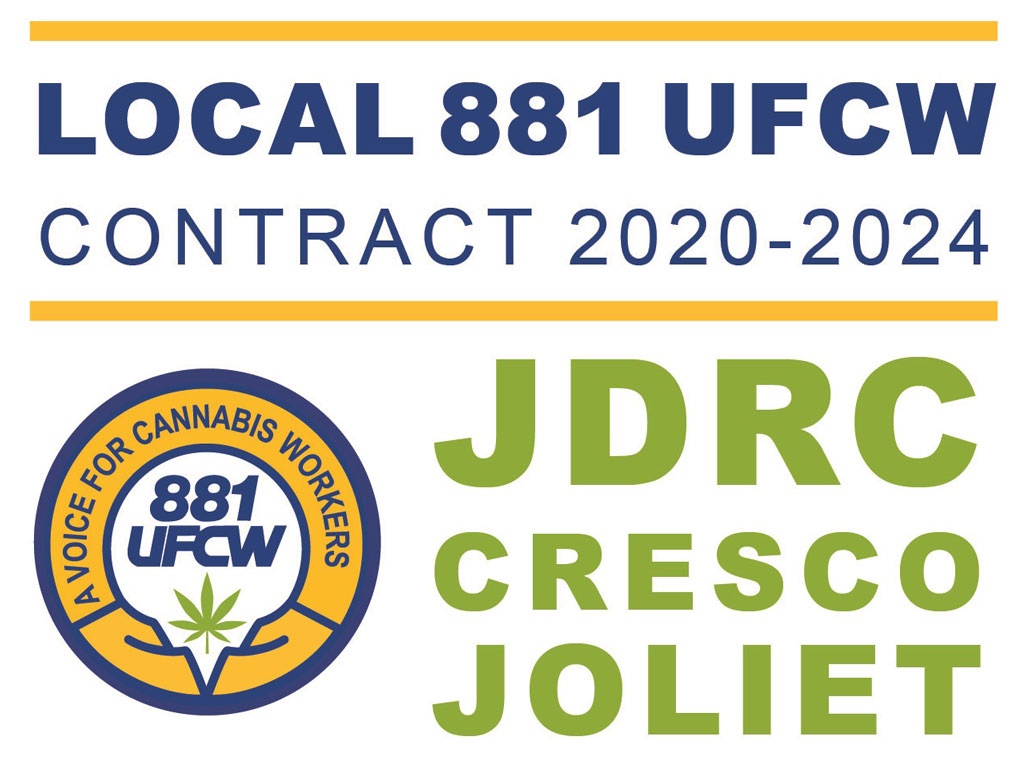 After nearly a year of negotiations and many Zoom meetings throughout the pandemic, Cresco Joliet workers remained united in their fight to make their cannabis industry jobs strong careers. The four-year contract includes wage increases, more paid leave, a higher 401(k) match, lower health insurance rates, an increased employee product discount, a robust grievance procedure, and stronger seniority protection language.
Workers at Cresco Labs in Joliet made history by joining UFCW Local 881 in January of 2020, becoming the first cannabis workers in Illinois history to win their union election. This victory came just weeks after recreational cannabis was legalized in the state. Cresco Labs is one of the largest cannabis companies operating in Illinois.
The intent of the Illinois recreational legislation was clear: to have good, well-paying union jobs in the industry. UFCW Local 881 is committed to ensuring that the cannabis industry lives up to the promises it made to the communities when it lobbied for their support for legalization.
"I am incredibly proud of the Cresco Joliet employees for showing unity in the face of adversity. It has been a long journey for this contract," said Jessica Olson, a facility coordinator at Cresco Labs who served on the Bargaining Committee. "I am excited that we now have clear expectations, guaranteed raises, and procedures for our employees. This is the first cannabis contract in the state of Illinois, and I am honored to be a part of history."
"Negotiating a first contract under normal conditions can be brutal, but the added challenges of a pandemic make this ratification even more impressive," said UFCW Local 881 President Steven Powell. "We knew Cresco workers had the courage and determination to make this a reality. We are also aware that cannabis workers around the state have been watching how the Cresco Joliet workers have fought and organized for this union contract. We know this will encourage other cannabis workers to join the movement to improve this industry."