UFCW members stood together to negotiate strong contracts this year, and some celebrated the benefit of having a first union contract. A list of bargaining victories is included in this article.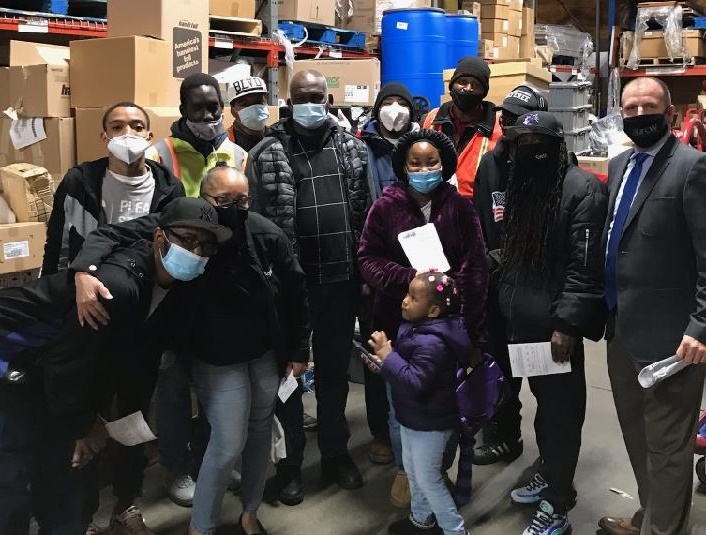 Brandy Williams, who is a member of UFCW Local 27 and works at Peach Tree Acres assisted living facility in Harbeson, Del., ratified her first union contract earlier this year, which raises wages and improves benefits.
"I feel with the union in place, now I have job security and someone to fight for me," said Williams.
Annesah Amatullah, a member of UFCW Local 663 who works as a part-time cashier at one of the three Seward Community Co-op stores in south Minneapolis ratified a new contract in August that improves benefits and raises wages to $15 per hour two years before the city's minimum wage ordinance goes into effect. This was a significant win for these members, who are essential workers during this pandemic.
"I enjoy working at the co-op and I'm really happy about our vote," said Amatullah. "Raising the minimum wage at Seward shows me that my work is important and that I'm valued as an employee. It also helps with less turnover because we're making enough and don't have to look elsewhere for better pay. Making more means I don't have to pick up extra hours and allows me to spend more time with my son."
Michelle Grennan, Kimberly Matson and Miroslava Dashkel, who are members of UFCW Local 21 and work at St. Anne Hospital in Burien, Wash., ratified a new contract in November that raises wages and improves benefits. Grennan, Matson and Dashkel were members of the bargaining team.
"We won! Through a pandemic, we worked together to secure a contract for a better tomorrow," they said.
Here are the negotiating articles that appeared in OnPoint this year:
Senior Living Community Workers in New Jersey Ratify New UFCW Contract
Local 1262 ShopRite Maintenance Workers in New Jersey Ratify First Contract
Local 152 Pennsylvania Beef Workers Stand Together for a Better Contract
Local 1189 Minnesota Health Care Workers Ratify New Contract
A Better Contract for Local 21 St. Anne Hospital Workers
New Jersey ShopRite Retail Clerks Ratify New Contract
Cannabis Workers in San Francisco Stand Together for Better Wages and Benefits
Local 152 DWK Life Sciences Workers Ratify New Contract
Local 21 Aramark Uniform Services Workers Ratify New Contract
Smithfield Workers in Iowa Stand Together for a Better Contract
Local 152 Acme Markets Workers Ratify New Contract
Cannabis Workers in Massachusetts Ratify First Contract
Hanover Foods Workers in Delaware Stand Together for a Better Contract
Local 152 Health Care Workers Stand Together for a Better Contract
New Seward Community Co-op Contract Includes $15 Hourly Pay
Local 152 Old Fashioned Kitchen Members Stand Together for a Better Contract
Local 400 Kroger Workers in Virginia Stand Together for a Better Contract
Local 152 Seafood Workers Stand Together for a Better Contract
Local 1564 Co-op Workers in New Mexico Stand Together for a Better Contract
Local 152 Borough of Bradley Beach Members Ratify New Contract
JBS Workers Stand Together for Better Contracts
Cafeteria Workers in Connecticut Stand Together for a Better Contract
Cargill Workers in Three States Stand Together for Better Contracts
Local 99 Members Ratify New Contract While Observing Social Distancing
A Better Contract for Acme Markets Workers in New Jersey
Meat Processing Workers in Colorado Ratify First Contract
A Better Contract for New Jersey Health Care Workers
Kroger Workers Across the Country Stand Together for Strong Contracts
Strong Contract Achieved by Over 4,000 Washington Health Care Workers
Local 222 MercyOne Siouxland Nurses Stand Together for a Better Contract
A Better Contract for New Jersey Custodial Workers
Maryland Workers Make History With State's First Cannabis Union Contract
St. Louis Grocery Workers Stand Together for a Better Contract
Delaware Workers Secure First Union Contract at Assisted Living Center