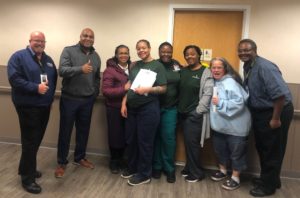 Members of UFCW Local 27 who work at Peach Tree Acres assisted living facility in Harbeson, Del., recently ratified their first union contract. Peach Tree Acres is the only facility of its kind in the state of Delaware and provides apartment-style assisted living and rehabilitative services for adults with brain injuries.
The Peach Tree Acres workers joined UFCW Local 27 in August of 2018 because they were concerned about wages and lack of respect from management, and the new four-year agreement addresses those issues. The new contract includes wage increases during each year of the agreement, a new 401(k) plan, and a strong new grievance procedure with binding arbitration. These members will also receive a ratification bonus during the first year of the agreement.
"I feel with the union in place, now I have job security and someone to fight for me," said assisted living worker Brandy Williams.
"We are proud to congratulate the workers of Peach Tree assisted living on winning their first union contract," said UFCW Local 27 President Jason Chorpenning. "These hard-working employees stood strong together throughout these very difficult negotiations to secure a better future for themselves and their families. I'm very happy to say: Welcome to the UFCW family!"