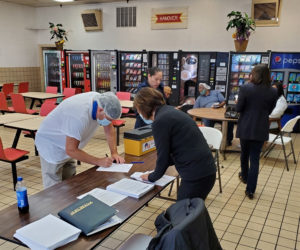 About 90 members of UFCW Local 152 who work at Hanover Foods in Clayton, Del., recently ratified a new contract that raises wages and protects benefits.
The three-year contract includes substantial wage increases, with many year-round positions receiving negotiated, market-driven increases that range from $0.85 to $2.95 per hour in the first year of the agreement alone. The contract maintains little to no cost share increases on their affordable health insurance and increases the weekly maximum pay for temporary disability.
The contract also includes new language to strengthen the rights of our union members, including:
Guaranteeing that Shop Stewards are permitted time to introduce themselves to new hires and explain the benefits of the contract;
Clarifying training pay for grades (4) and above; and
Closing a possible loophole that ensures newly hired employees still on probation will be offered more weekly work opportunities than any temporary help that may be used during peak seasons.
Members of UFCW Local 152 work in a variety of positions at the Hanover Foods facility, including production, sanitation, maintenance, shipping and receiving, and more. The Hanover Foods plant in Clayton is best known for supplying frozen waffles, grilled chicken, and various vegetables.
Members of the Negotiating Committee included Director of Collective Bargaining Dan Ross; Recorder/Assistant Director of Collective Bargaining Lisa Sanders; Union Representative Greg Torian; Shop Stewards Valerie Savage, Tyshika Hayes, Dave Johnson; and member Joe Drummond.