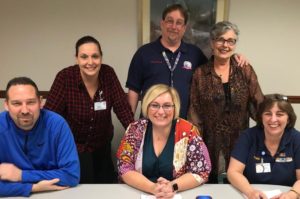 On Feb. 19, over 500 UFCW Local 152 members who work at Cape Regional Medical Center in Cape May County, N.J., overwhelmingly voted to ratify a new contract that raises wages and preserves benefits. These members play an important role at Cape Regional Medical Center and are employed as registered nurses, transport and food service workers, and in other positions that serve patients and visitors.
The new three-year agreement includes wage increases each year for the life of the contract. Additionally, the new contract includes language changes that address daily operational concerns and preserves their excellent health care benefits for the life of the agreement.
Congratulations to our members and the Negotiating Committee for this monumental win, including Director of Collective Bargaining Dan Ross, Jr.; Vice President and Director of Field Services Peggy Kelly; and Shop Stewards Chris Reitnauer, Mary Anna Long, Fred Plenn, Amanda Molino, and Kelley McNair.