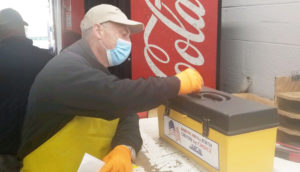 Members of UFCW Local 152 who work at Lawrence Street Seafood Company in Philadelphia unanimously ratified a new contract on July 13. Lawrence Street Seafood Company is a seafood wholesaler and distributor, and members of UFCW Local 152 produce a full line of fresh and frozen seafood products that are distributed to tri-state restaurants in the area.
The five-year agreement provides continual monthly pension contributions, as well as a monthly increase in each member's 401(k) savings plan. In addition, members will receive yearly wage increases, including a healthy upfront raise of $1.00 per hour in 2020. The new agreement also maintains affordable health insurance for the life of the contract and increases bereavement leave.
Members of the Negotiating Committee included Director of Collective Bargaining Dan Ross; Union Representative Matte Kane; and Shop Steward Tommy Ziegler.