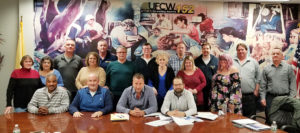 Over 1,200 members of UFCW Local 152 who work in the retail departments of Acme Markets stores in New Jersey ratified a new contract on March 3 that improves benefits and raises wages. UFCW Local 152 represents retail clerks who work in the floral, grocery, frozen foods and other  departments in Acme Markets stores in Atlantic, Cape May, Cumberland, and southern Ocean counties in New Jersey.
The four-year contract maintains no-cost-sharing of medical benefits, meaning these Acme Markets retail clerks will continue to pay nothing out of pocket for their health care plan for the duration of the contract. As health care costs continue to skyrocket in our country, this alone is without question a monumental win for our members!
The contract also secures paid sick days, a request made many times in the past. The introduction of the New Jersey earned sick leave law helped the Negotiating Committee leverage this benefit to become a reality. Effective upon ratification, all Acme Markets retail members can accrue up to 40 hours per year of paid sick leave, which can be rolled over into the next year or paid out at the member's discretion.
The agreement also includes immediate across-the-board wage increases, as well as increases each year for the life of the contract. Most department managers will enjoy an increased premium to reward their skills and dedication. Additionally, a few crucial positions were reclassified to offer additional compensation. Finally, in addition to better clarifying language throughout, the new contract also mandates that schedules be posted earlier, so members can have better control of their work-life balance.
Congratulations to the Negotiating Committee and our members on this big win! The committee consisted of UFCW Local 152 President Brian String; Executive Assistant to the President Daniel Konczyk; Director of Collective Bargaining Daniel Ross, Jr.; Director of Field Services Joe Stathius; Director of Communications Mike Thompson; Union Representative Cary Lawson; and Union Representative Tom Hartle. It also included 11 Shop Stewards: Lou Yacovelli, Bill Brennan, James Frick, Donna Heiler, Kim Broomell, Kathy Belford, Mary Fuller, Arthur Blomkvest, Ruth Spencer-Dunn, Michael Nicholas and Dawn Bertino.