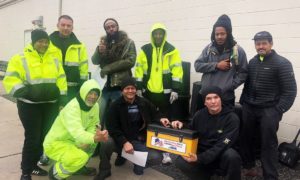 Members of UFCW Local 152 who are employed as custodial workers by ESC Federal and work at the Tanger Outlets site in Atlantic City, N.J., ratified a strong, new contract on Jan. 3.
The three-year contract includes immediate, across-the-board wage increases each year for the life of the contract. Some members will see a raise upwards of $2.40 per hour in the first year alone.  Furthermore, Shop Stewards are now granted up to eight hours of paid leave for steward-related training and education.
The contract introduces a new bidding process for open/available positions, where members will be chosen based on their seniority and skill level for the newly-rated classifications that were established. Not only will full-time members continue to enjoy health care coverage at no cost to them, but they will also be receiving increased contributions to the UFCW Local 152 savings plan. Additionally, members will now receive rain protection and work shoe reimbursement as part of their yearly clothing allowance, and can now enjoy an additional personal holiday to be used at their discretion. Finally, the contract establishes clear language to comply with the New Jersey Earned Sick Leave Act.
Congratulations to our members and the Negotiating Committee, including Director of Collective Bargaining Dan Ross, Union Representative Jose Echevarria, and Shop Steward Troy Faulkner.