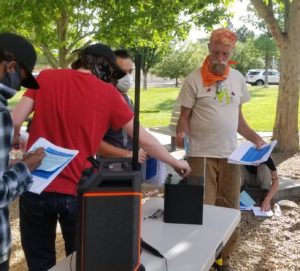 Members of UFCW Local 1564 who work at four La Montañita Co-op stores in Albuquerque, Gallup and Santa Fe, N.M., unanimously ratified a new contract on June 24 that includes pay increases and updated language that addresses the current health crisis. 
The three-year contract includes annual raises for the 51 workers, as well as and health and safety language that specifies that the employer must be open to negotiations with the union and their employees about necessities such as hazard pay, employee health and safety, and operations during the life of the pandemic. The language also requires the employer to provide adequate personal protective equipment for employees during the pandemic or current health crisis. The new agreement also includes sick pay with up to 56 hours of accrual a year, a move from the company's health and welfare plan to the union health and welfare trust fund, an increase in employee store discounts, and language regarding domestic abuse leave. The ratification took place at a park down the street from one of the La Montañita Co-op stores so that these members could stay safe with social distancing.
"In today's climate of sexism, political division, and racial injustice, unions are needed as much now as ever," said Jean ﹰGonzales, an assistant produce department team leader at La Montañita Co-op and a lead negotiating committee member. "No other organization I know of brings people of all backgrounds together like labor unions. One hundred percent YES co-op vote!"
"We began weekly store visits, aggressive enforcement of the contract, and home calls prior to beginning bargaining and all of that played a major role in leverage at the bargaining table," said UFCW Local 1564 President Greg Frazier.