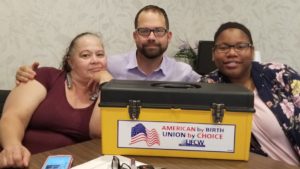 UFCW members stood together to negotiate strong contracts this year, and some celebrated the benefit of having a first union contract. A list of bargaining victories is included in this article.
William Castro, who is a member of UFCW Local 663 and works at Tony Downs Foods in Madelia, Minn., recently ratified a new contract that provides higher wages, better health benefits, a more secure retirement plan, and worker protections for more than 300 food processing employees.
"I'm happy for the raises we were able to get as a union," Castro said. "I've worked nonunion jobs before and have come back to Tony Downs because it's a union company that supports the community with good jobs."
Nicole Lee, who is member of UFCW Local 1996, works at Pilgrim's Pride in Sumter, S.C., ratified a first union contract on June 23 that includes wage increases and other workplace improvements.
"Organizing with UFCW Local 1996 at our plant is the best thing that has happened to our work environment since I've worked here, and I'm happy to have been a part of the organizing campaign since the beginning," she said. "Our contract gets us a pay increase; but more importantly, it gets us the respect, dignity and fairness at work that we so badly needed. It has been so positive for our work environment that we have even seen reduced turnover and a general morale boost at the plant."
Nicole, who works at Stop & Shop, was one of 31,000 UFCW members in New England who won strong new contracts following a historic 11-day walkout in April to protest cuts to health care, take-home pay, and other benefits. The new agreements, which were ratified on April 24 through May 1, preserve health care and retirement benefits, provide wage increases, and maintain time-and-a-half pay on Sunday for current members.
"It's exciting to be back to normal, but it's also exciting to know how much our community cares about good jobs," said Nicole. "We're all a lot stronger now."
Here are the negotiating articles that appeared in OnPoint this year:
Minnesota Food Workers Stand Together for a Better Contract
Massachusetts Workers Make History With State's First Cannabis Union Contract
New Jersey Baking Workers Boost Pay, Save on Health Care in New Contract
Chemical Workers Boost Pay by Standing Together in Eight-Month Negotiation
A Better Contract For Local 152 Logistics Workers in Philadelphia
New Hormel Contract Raises Wages, Strengthens Health Care
Vireo Health Workers in Pennsylvania Ratify First Contract
New Jersey Health Workers Stand Together for a Better Contract
Better Wages and Full-Time Positions for Schnucks Workers in St. Louis
Minnesota Co-op Workers With Local 663 Benefit from New Contract
Pleasure Chest Workers in New York Ratify First Contract
New York Food Service Workers Stand Together for a Better Contract
A Better Contract for Missouri Tannery Workers
New Jersey Retirement Community Workers Secure Raise, Better Benefits
Strong Organizing Leads to a Strong First Contract for Pilgrim's Pride Workers
Local 1189 Co-op Workers Stand Together for a Better Contract
Victory for Colorado Mission Foods Workers With Pay Raise, Better Benefits
Kroger Members in Indianapolis Stand Together for a Better Contract
Victory for New Jersey Workers at Local 152 With Pay Raise
A Strong, New Contract for Food Service Workers in New Jersey
Local 1445 Macy's Workers Strengthen Pay and Health Care in New Contract
A Strong, First Contract for Florida Beef Workers
A Better Contract for Local 367 Macy's Workers in Washington
A Victory for Stop & Shop Workers in New England
Grocery Workers in Colorado and Wyoming Protect Good Pay and Health Care in New Contracts
Local 700 Workers in Indianapolis Get a Raise With New Contract
Higher Pay and Strong Health Care in New Local 1776KS Contract
A Stronger Contract for Local 1776KS Nursing Home Workers
Victory for Minnesota Tannery Workers With Better Wages and Benefits
Big Wins for Local 222 Empirical Foods Workers in New Contract
Darling Ingredients Workers Stand Together for a Better Life
A Better Contract for Dietz and Watson Workers
Arett Sales Workers Stand Together for a Better Life
A Better Contract for UFCW 770 Overhill Farms Members
Local 152 Reed and Perrine Workers Stand Together for a Better Life
New York Chemical Workers Stand Together for a Better Life
A Better Contract for CRS Facility Services Workers
A Better Contract for Local 663 Grocery Workers in Minnesota