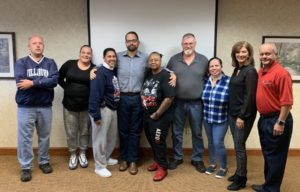 On Oct. 23, members of UFCW Local 152 who work at Top Quality (TQ) Baking in Vineland, N.J., stood together to approve a new contract that raises wages and protects benefits.
The three-year agreement includes wage increases each year for the life of the contract, and the initial increase will result in many members receiving market increases ranging from $1.00 to $4.00 per hour. TQ Baking members will be joining UFCW Local 152's Health and Welfare Fund, entering a new benefits plan that now includes prepaid legal benefits and considerably lowers their weekly cost share for family coverage.
The new contract also includes an increase in the company match for employee 401(k) plans, as well as an increase in holiday pay, and improves seniority language throughout the contract to reward loyal, long-term workers. Finally, the contract enhances previous sick time provisions. TQ Baking members will now receive up to 40 hours per year of paid time off in addition to their vacation and personal holidays.
Members of the Negotiating Committee included Assistant Director of Collective Bargaining Dan Ross, Jr.; Recorder and Union Representative Lisa Sanders; Vice President and Union Representative Jose Echevarria; Shop Stewards Marta Rodriguez and Arthur Mead, Jr.; and members Iva Negron, Jessica Garcia, Aretha Elliott, and Jim Ranels.
TQ Baking is one of the largest suppliers of frozen garlic bread and rolls. UFCW Local 152 represents over 300 members at the company who work in production, packaging, sanitation, and much more at the bakery.