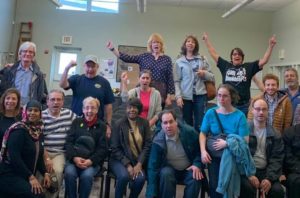 UFCW Local 1445 members who work at Macy's stores across Massachusetts and Rhode Island voted overwhelmingly to approve a new contract on May 19. The new contract, which follows more than four months of negotiations, includes wage increases and strengthens access to affordable health care.
The three-year contract includes continued Sunday premium pay, wage increases, lower health care premiums and access to more performance bonuses. UFCW Local 1445 represents around 1,000 Macy's workers at stores in Boston, Peabody, Natick, and Braintree in Massachusetts as well as Warwick in Rhode Island. This contract is part of the UFCW's united coast-to-coast effort to ensure every member receives the good pay and benefits they have earned and are able to build a better life for themselves and their families.
"Macy's is a company that continues to grow and succeed because we work hard for our customers every day," said Anne Connelly, who works at the Macy's store in Braintree. "This contract recognizes what we contribute to the company and will help the hard-working men and women of Macy's get the better life we've earned and deserve."
"Months of preparation mobilizing the members at Macy's helped bring out the leadership in our rank and file who took active roles in securing the best contract possible," said UFCW Local 1445 President Jeff Bollen.