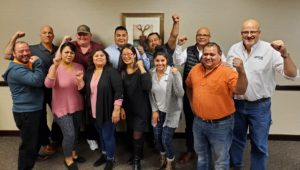 Members of UFCW Local 663 who work at Tony Downs Foods in Madelia, Minn., recently ratified a new contract that provides higher wages, better health benefits, a more secure retirement plan, and worker protections for more than 300 food processing employees. Tony Downs Foods is the largest employer in the area.
"I'm happy for the raises we were able to get as a union. I've worked nonunion jobs before and have come back to Tony Downs because it's a union company that supports the community with good jobs," said William Castro, a forklift operator who has worked at Tony Downs Foods for 15 years.
The four-year contract represents a big economic win for families in Madelia and the surrounding area. Over the life of the contract, workers will receive a total of a 12 percent increase in base pay and 401(k) contributions combined. The contract will be active from October 1, 2019 to September 30, 2023, and union members will receive retroactive pay from October 1,  as well as a sign-on (or ratification) bonus. Other highlights of the contract include increases to the life insurance benefit; better company matching contributions to the 401(k) plan based on eligibility and three-year vesting; and improvements in vacation scheduling that make it easier for our members to achieve the work-life balance their families need.
"I love where I live. My family and I have lived here my whole life and raised my family here. I'm going to retire here. I'm glad that I have the option to not only contribute to my 401(k) but that now my employer is going to contribute, making my retirement options even more secure," said Jose Cruz Molina, who works second shift maintenance at the plant.
"I congratulate our UFCW union family in Madelia who worked together and secured a great four-year contract for their coworkers at the plant," said UFCW Local 663 President Matt Utecht. "We work together and have each other's backs. We know our rights, we stand up for them together, and get them in writing."