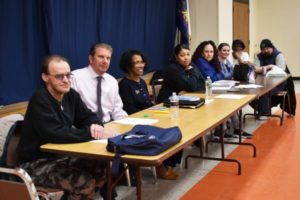 Over 300 members of UFCW Local 1776KS who work at Berks Heim Nursing and Rehabilitation in Leesport, Pa., ratified a new contract on April 2 that preserves long-term, quality resident care and ensures job security.
The new five-year agreement, which was approved by an overwhelming margin, includes a 3 percent yearly wage increase over the previous contract's 2.5 percent year-over-year wage increase. The agreement also protects employees' health care, and locks in language that secures Berks Heim employees' jobs for years to come, with significant penalties if the county were to violate the agreement.
In addition to the approved contract, Local 1776KS, along with SEIU Healthcare PA, which represents the nurses in the facility, has been collaborating with county officials, as well as Senator Judy Schwank and Governor Tom Wolf, to work on solutions to secure additional funding for Berks Heim and other high-performing, quality long-term care facilities through state Medicaid reimbursement programs and other funding mechanisms. With this joint effort, Berks Heim has seen increased state funding through Medicaid reimbursement rates and other funds over the past two state budgets.
"I am proud of the hard work and commitment of our bargaining committee members at Berks Heim. Through months of negotiations, our committee remained steadfast and ensured all key issues were addressed," said UFCW Local 1776KS President Wendell Young IV. "Working on this contract has helped us develop a better relationship with Berks Heim county officials and I would like to thank the County Commissioners, particularly Commissioner Kevin Barnhardt and Commissioner Christian Leinbach, for their engagement with our membership, as well as SEIU Healthcare – their membership, the bargaining committee and SEIU Healthcare PA President Matt Yarnell. I am grateful for both Senator Judy Schwank and Governor Tom Wolf, who showed crucial, steadfast support of our members who work at Berks Heim. This contract allows our members to continue to provide exemplary care to Berks County residents and keeps the nursing home in County hands where it belongs."