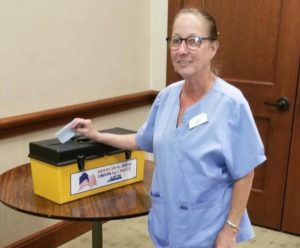 UFCW Local 152 members who work at Meadow Lakes, a continuing care retirement community in East Windsor, N.J., ratified a new contract on July 10 that raises wages and improves benefits.
The three-year agreement includes an above average, across-the-board wage increase each year for the life of the contract, as well as a ratification bonus, and preserves their affordable health care plan. Additionally, language was added to the contract to give members greater flexibility for earned sick time; more notice for the posting of schedules (14 days); and the option to reserve some personal days on their return from approved FMLA leave.
UFCW Local 152 represents over 140 members who work as certified nursing assistants, dietary aides, housekeepers, drivers, concierge staff, cooks, and maintenance workers at Meadow Lakes, which has been represented by the UFCW for over 50 years.
Members of the Negotiating Committee included Assistant Director of Collective Bargaining Dan Ross, Jr.; Collective Bargaining Representative Ron Whille; Union Representative Matte Kane; Shop Stewards Peter White, Stacie Chew, Pamela Frost, Treena West, Irma LaMadrid and Richard Bell; and member Rachel White.