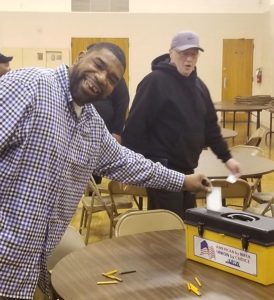 On Oct. 20, more than 100 UFCW Local 152 members who work in shipping and receiving at Dietz and Watson Logistics in Philadelphia ratified a new contract that raises wages and protects health care benefits.
The three-year contract introduces many new benefits for our members. In addition to significant wage increases each year for the contract's term, the workers will see no increase in cost-sharing of health and welfare for the term of the agreement. In addition, all members have earned an extra day of earned time off and can enjoy more flexibility when using it.
Dietz and Watson is known for their meats and cheeses, which are sold in our union retailers. Members of the Negotiating Committee included Assistant Director of Collective Bargaining Dan Ross, Jr.; Union Representative Matte Kane; Shop Stewards Tim Carstarphen, Bonnie "Butch" Spruill and Dwayne Smith; and members Hafiz Haqq and Joe Meade.