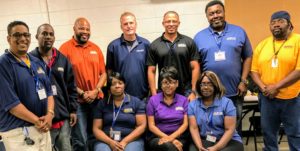 After multiple rounds of negotiations, over 750 members of UFCW Local 1996 who work at Pilgrim's Pride in Sumter, S.C., ratified a first union contract on June 23 that includes wage increases and other workplace improvements.
These workers joined UFCW Local 1996 in May of 2018 because they wanted better wages and treatment in the workplace. The new three-year agreement is the next phase of that organizing campaign and includes pay raises, halts job outsourcing within the plant, and creates fairness in the disciplinary process.
"Organizing with UFCW Local 1996 at our plant is the best thing that has happened to our work environment since I've worked here, and I'm happy to have been a part of the organizing campaign since the beginning," said Pilgrim's Pride employee Nicole Lee. "Our contract gets us a pay increase; but more importantly, it gets us the respect, dignity and fairness at work that we so badly needed. It has been so positive for our work environment that we have even seen reduced turnover and a general morale boost at the plant."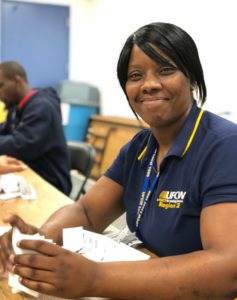 "I'm proud of the work of the members of this plant," said UFCW Local 1996 President Steve Lomax. "Because of their hard work, dedication and active involvement in the union, this plant was organized, and we kept the company at the table until a fair agreement was reached. Strong members make strong unions, and I am thankful for the strength of these members as they fought to have a voice in their workplace."
Pilgrim's Pride is a Brazilian-owned, multi-national food company and one of the largest chicken producers in the United States and Puerto Rico.