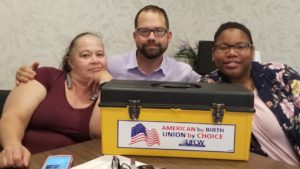 UFCW Local 152 members who work at Autumn Lake Healthcare in Ocean View, N.J., voted unanimously to ratify a new contract on Sept. 30. This group includes more than 70 workers who are employed as certified nursing assistants, dietary aides, housekeepers, cooks, and activities staff.
The new three-year contract introduces many new perks for our members. With the newly-ratified contract, members at Autumn Lake Healthcare will see wage increases every six months for the life of the contract, in addition to a longevity bonus for long-term employees. The contract also preserves their affordable health care plan and has added New Jersey Sick Leave language.
Autumn Lake Healthcare offers services ranging from short-term rehabilitation to long-term residency programs, hospice/palliative/respite, and in some cases, specialized secure care. Members of the Negotiating Committee included Assistant Director of Collective Bargaining Dan Ross, Jr.; Director of Field Services Peggy Kelly; and Shop Stewards Delilah Warner, Shawnty Richardson, and Bobbi Ajisola.