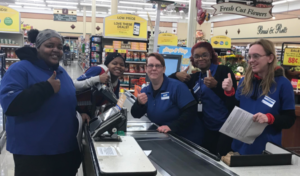 UFCW members stood together to negotiate strong contracts this year, and some celebrated the benefit of having a first union contract. A list of bargaining victories is included in this article.
Lubaba Qabeto and Yolanda Womack, who are members of UFCW Local 663 and work at Seward Community Co-op in Minneapolis in the Franklin and Friendship locations, ratified their first union contract on August 31. The two-year contract includes pay equity, consistent scheduling and discipline procedures, as well as diversity and inclusion language.
"I'm happy that I'll be getting better wages," said Qabeto. "It's a great win for all of us union members. Better wages mean more money for my family to overcome financial burdens so we can thrive."
"This contract will help Seward Community Co-op become a more attractive place of employment for women and people of color," said Womack. "We have a voice at work. Employees are also better able to provide for their families because of better wages and improved working conditions."
Richard Mondesir, who is a member of UFCW Local 1776KS and works at Mission Foods in Mountain Top, Pennsylvania, ratified his first union contract on April 13. The three-year contract includes language that sets up a grievance process and seniority system, locks in minimum wage increases, and includes paid sick time. Union representatives also will have access into the Mission Foods plant to meet with members and investigate grievances.
"This contract being ratified means a lot to me, because without a contract you cannot get anything done. There are a lot of things here that need to be fixed and a union contract will help make that happen," said Mondesir. "When we work together, we are stronger."
Here are the bargaining victories that appeared in OnPoint this year:
A New Contract for Kroger Workers in Ohio
http://forlocals.ufcw.org/2018/12/10/a-new-contract-for-kroger-workers-in-ohio/
Kroger Workers in Indiana Stand Together for a Better Contract
http://forlocals.ufcw.org/2018/12/03/local-700-kroger-workers-in-indiana-stand-together-for-a-better-contract/
New Kaiser Permanente Contract Raises Wages and Improves Benefits
http://forlocals.ufcw.org/2018/11/13/new-kaiser-permanente-contract-raises-wages-and-improves-benefits/
Local 1776KS Kroger Workers Ratify New Contract
http://forlocals.ufcw.org/2018/11/05/local-1776ks-kroger-workers-ratify-new-contract/
Local 663 JBS Workers Ratify New Contract
http://forlocals.ufcw.org/2018/10/29/local-663-jbs-workers-ratify-new-contract/
Local 152 Assisted Living Workers in New Jersey Ratify New Contract
http://forlocals.ufcw.org/2018/10/22/local-152-assisted-living-workers-in-new-jersey-ratify-new-contract/
New Rite Aid Contract Raises Wages, Protects Benefits
http://forlocals.ufcw.org/2018/10/15/new-rite-aid-contract-raises-wages-protects-benefits/
TBC Brands Workers in Tennessee Ratify First Contract
http://forlocals.ufcw.org/2018/10/15/tbc-brands-workers-in-tennessee-ratify-first-contract/
3,700 Kroger Workers Gain Better Wages in New Contract
http://forlocals.ufcw.org/2018/09/17/virginia-kroger-workers-stand-together-for-a-better-contract/
New Jersey Health and Rehab Workers Rack Up Wins in New Contract
http://forlocals.ufcw.org/2018/09/17/new-jersey-rehab-workers-win-a-better-contract/
Local 663 Seward Co-op Workers Ratify First Union Contract
http://forlocals.ufcw.org/2018/09/10/local-663-seward-co-op-workers-ratify-first-union-contract/
Local 21 Have a Heart Workers Ratify Washington's First Adult-Use Cannabis Union Contract
http://forlocals.ufcw.org/2018/09/04/local-21-have-a-heart-workers-ratify-washingtons-first/
A Better Contract for Indiana Kroger Workers
http://forlocals.ufcw.org/2018/08/27/a-better-contract-for-indiana-kroger-workers/
A Better Contract for Local 1776 Grocery Workers
http://forlocals.ufcw.org/2018/08/20/a-better-contract-for-local-1776-grocery-workers/
Local 152 Members in New Jersey Negotiate a Better Life
http://forlocals.ufcw.org/2018/08/20/new-jersey-health-care-workers-stand-together-for-a-better-life/
Big Wage Increases for Dr. Pepper Workers
http://forlocals.ufcw.org/2018/08/06/local-400-dr-pepper-workers-win-a-better-contract/
Wells Meat Company Workers in Philadelphia Win a Better Contract
http://forlocals.ufcw.org/2018/07/30/wells-meat-company-workers-in-philadelphia-win-a-better-contract/
Farmer John Workers in California Ratify Historic New Contract
http://forlocals.ufcw.org/2018/07/16/farmer-john-workers-in-california-ratify-historic-new-contract/
New Jersey Health Care Workers Ratify First Contract
http://forlocals.ufcw.org/2018/07/09/new-jersey-health-care-workers-ratify-first-contract/
Better Contracts for Washington Health Care Workers
http://forlocals.ufcw.org/2018/07/09/washington-multicare-workers-stand-together-for-better-contracts/
Improving Health Care Jobs in Minnesota
http://forlocals.ufcw.org/2018/07/09/essentia-health-workers-in-minnesota-ratify-new-contract/
A Better Contract for Food Workers in New Jersey
http://forlocals.ufcw.org/2018/06/25/a-better-contract-for-food-workers-in-new-jersey/
A Better Contract for Hanover Foods Workers in Maryland
http://forlocals.ufcw.org/2018/06/11/hanover-foods-workers-in-maryland-bargain-for-a-better-life/
First Contract for New Jersey Health Care Workers
http://forlocals.ufcw.org/2018/06/04/health-care-workers-in-new-jersey-ratify-first-contract/
Local 7 Safeway Pharmacy Technicians in Wyoming Bargain for a Better Life
http://forlocals.ufcw.org/2018/05/29/local-7-safeway-pharmacy-technicians-in-wyoming-bargain-for-a-better-life/
RWDSU/UFCW Local 220 Mott's Workers in New York Ratify New Contract
http://forlocals.ufcw.org/2018/05/07/rwdsu-ufcw-local-220-motts-workers-in-new-york-ratify-new-contract/
Local 1776 Mission Foods Workers in Pennsylvania Ratify First Union Contract
http://forlocals.ufcw.org/2018/04/30/local-1776-mission-foods-members-in-pennsylvania-ratify-first-union-contract/
SBM Management Services Workers in Virginia Ratify First Contract
http://forlocals.ufcw.org/2018/04/09/sbm-management-services-workers-in-virginia-ratify-first-contract/
Local 536 Kroger Workers in Illinois Ratify New Contract
http://forlocals.ufcw.org/2018/03/26/local-536-kroger-workers-in-illinois-ratify-new-contract/
Local 540 Silgan Containers Workers in Texas Ratify New Contract
http://forlocals.ufcw.org/2018/03/19/ufcw-local-540-silgan-containers-workers-ratify-new-contract/
Local 75 Kroger Workers in Ohio, Kentucky and Indiana Ratify New Contract
http://forlocals.ufcw.org/2018/03/12/local-75-kroger-workers-in-ohio-kentucky-and-indiana-ratify-new-contract/
Local 653 Members at Supervalu Cub Foods, Kowalski's and Independent Grocers in Minnesota Ratify New Contracts
http://forlocals.ufcw.org/2018/03/12/local-653-members-at-supervalu-cub-foods-kowalskis-and-independent-grocers-in-minnesota-ratify-new-contracts/
Local 653 Jerry's Enterprises Workers in Minnesota Ratify New Contract
http://forlocals.ufcw.org/2018/03/05/local-653-jerrys-enterprises-workers-in-minnesota-ratify-new-contract/
Local 152 Pitman Manor Workers in New Jersey Ratify First Contract
http://forlocals.ufcw.org/2018/02/26/local-152-pitman-manor-workers-in-new-jersey-ratify-first-contract/
Local 653 Lunds & Byerlys Workers in Minneapolis Ratify New Contract
http://forlocals.ufcw.org/2018/02/20/local-653-lunds-byerlys-workers-in-minneapolis-ratify-new-contract/
Local 919 Burlington Coat Factory Workers Ratify New Contract
http://forlocals.ufcw.org/2018/02/20/local-919-burlington-coat-factory-workers-ratify-new-contract/
Wild Oats Market Co-op Workers in Massachusetts Ratify First Contract
http://forlocals.ufcw.org/2018/01/22/wild-oats-market-co-op-workers-in-massachusetts-ratify-first-contract/
Harrison Medical Center Workers in Washington Ratify New Contracts
http://forlocals.ufcw.org/2018/01/16/harrison-medical-center-workers-in-washington-ratify-new-contracts/
Gold Cross Ambulance Workers in Minnesota Ratify New Contract
http://forlocals.ufcw.org/2018/01/16/gold-cross-ambulance-workers-in-minnesota-ratify-new-contract/
Local 653 Eastside Food Co-op Workers Ratify First Union Contract
http://forlocals.ufcw.org/2018/01/02/local-653-eastside-food-co-op-workers-ratify-first-union-contract/
Local 919 Community Renewal Team Workers Ratify New Contract
http://forlocals.ufcw.org/2018/01/02/local-919-community-renewal-team-workers-ratify-new-contract/