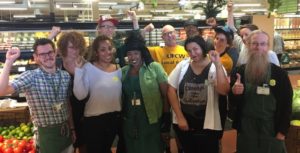 On August 31, members of UFCW Local 663 who work at Seward Community Co-op in Minneapolis ratified their first union contract, which improves wages and benefits, by a wide margin.
The two-year contract includes pay equity, consistent scheduling and discipline procedures, as well as diversity and inclusion language. The contract, which is retroactive, runs from August 20, 2018 through August 19, 2020.
"I'm happy that I'll be getting better wages," said Lubaba Qabeto, who has worked at the Seward Franklin location in the front end for almost 15 years. "It's a great win for all of us union members. Better wages mean more money for my family to overcome financial burdens so we can thrive."
"The scheduling language is huge," said Ace Fox, the production shift lead at Seward's Creamery location. "Before, I never had a consistent schedule. Now, I'll be able to plan my life. I'm looking forward to sleeping more, having more control, and growing more confident in my ability to make decisions about my life. That's important, because now I know I can make it to roller derby practice. We all deserve the chance to honor our commitments to friends, family, and hobbies and our union contract paves the way to make that happen."
"This contract will help Seward Community Co-op become a more attractive place of employment for women and people of color," said Yolanda Womack, the manager on duty at the Seward Friendship location. "We have a voice at work. Employees are also better able to provide for their families because of better wages and improved working conditions."
"We welcome Seward Co-op workers into the Local 663 union family," said UFCW Local 663 President Matthew Utecht. "The tenacity that workers showed throughout the bargaining process is inspiring. That's why I know they're a good fit, because in our union we support one another and never give up. Those are union values. I applaud all Seward employees on this overwhelming vote that affirms better lives and healthier communities."
This win falls on the heels of the recent union merger between UFCW Local 653 and UFCW Local 1161 in southwestern Minnesota, which officially created UFCW Local 663 on September 1. Together, with the newly merged union members from southwestern Minnesota and Seward Community Co-op workers, UFCW Local 663 is now the largest UFCW local in the five-state area.