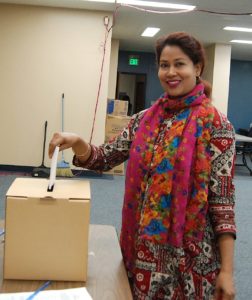 On Oct. 1, members of UFCW Locals 8GS, 135, 324, 770, 1167, 1428 and 1442 who work at Rite Aid stores in Southern California ratified a new contract that raises wages and protects benefits. The new contract covers 5,900 Rite Aid employees at 357 stores.
The three-year agreement, which was ratified by an overwhelming margin, provides across-the-board wage increases oscillating between $0.90 to $1.80 per hour. Rite Aid also agreed to maintain the jointly-managed Trust Fund benefits by paying the amounts necessary to keep union medical plan throughout the contract. The agreement also includes work week guarantees, layoff protections and better severance pay.
"We won this contract through the solidarity of our members and their steadfast commitment to demanding respect for their hard work," said UFCW Local 770 President John Grant.
The Southern California Rite Aid members called for boycott of Rite Aid stores starting on September 5 in their battle for a better contract. After three weeks, and turning away thousands of customers, Rite Aid agreed to the current contract.
Rite Aid is the only 100 percent unionized neighborhood drugstore in Southern California and has partnered successfully with the UFCW for decades in meeting the needs of union members and customers in what has become a very competitive marketplace. This spirit of cooperation was the foundation for the agreement reached.