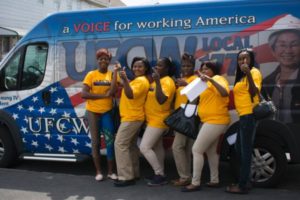 On April 13, 480 members of UFCW Local 1776 who work at Mission Foods in Mountain Top, Pennsylvania, ratified their first union contract. The Mission Foods workers make a full line of Mexican food products, including tortillas, wraps, and other goods used in restaurants and sold in supermarkets across the globe.
The three-year contract includes language that sets up a grievance process and seniority system, locks in minimum wage increases, and includes paid sick time. Union representatives also will have access into the Mission Foods plant to meet with members and investigate grievances.
The workers' victory was the successful conclusion to many years of campaigning and bargaining, giving a united voice to the members at Mission Foods. The workers have been fighting to form a union since 2006, and originally won their NLRB election in May of 2016 despite an intense anti-union campaign. This vote comes as a major victory after a previous contract voted on in 2017 was disputed by Mission Foods. UFCW Local 1776 filed charges against Mission Foods for illegally bargaining in bad faith, and after a lengthy investigation by the NLRB's Philadelphia Regional Office, Mission Foods agreed to a Formal Settlement Stipulation to resolve the charges filed by the local and returned to the bargaining table in early 2018.  For the first time, Mountain Top Mission Foods employees will have a union contract that protects their job, guarantees fair treatment and gives workers a united voice.
UFCW 1776 President Wendell Young IV described the contract as "a solid first effort with much-needed worker protections and job security," and congratulated Mission Foods workers on their victory.
"The goal is to better the lives of working people throughout the country. The Mission Foods workers are a great example of what standing together and fighting for a voice can achieve. These workers are an inspiration and will motivate others to speak out and fight for better wages, working conditions, and respect," said Young.
"This contract being ratified means a lot to me, because without a contract you cannot get anything done. There are a lot of things here that need to be fixed and a union contract will help make that happen," said Mission Foods Shop Steward Richard Mondesir. "When we work together, we are stronger."