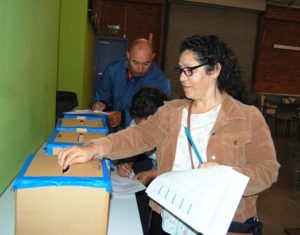 Members of UFCW Local 770 who work at Farmer John in Vernon, California, ratified a new contract by an overwhelming margin on July 9. The agreement is a hard-won victory for the roughly 1,200 members who work at the plant, and includes a union security clause after 33 years of fighting to get it back. The Farmer John workers are responsible for the production of bacon, sausage, ham and hot dogs, including the famous "Dodger Dog."
The four-year contract includes wage increases for all classifications, health benefits that include lower deductibles from workers, protection and compensation for employees who miss work due to illness beyond the state requirements, provisions that strengthen the workers' voice on the job, and improved safety enforcement.
"Union security is a huge achievement that we lost 1985," said Pedro Albarrán, who has worked for Farmer John for over two decades. "This win gives us strength and we want the company to acknowledge our role in the production process and our contributions to the company's success."
"This contract represents a significant victory for our members, and secures their wages and health benefits," said UFCW Local 770 President John Grant. "Thanks to the unwavering determination of our members, we were able to stand strong and deliver for our members."
In 2016, Farmer John was bought by Smithfield Foods – the largest pork processing company in the United States. Smithfield, in turn, is owned by a Chinese corporation that is the largest pork producer in the world.