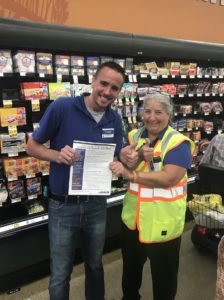 On August 8, about 2,400 members of UFCW Local 700 who work at 24 Kroger stores in the Ft. Wayne, Indiana, area ratified a new contract that improves wages and benefits.
The one-year contract recognizes the hard work of Kroger workers in the Ft. Wayne area and increases pay to align with rates in the Indianapolis Kroger contract. The contract also provides regular, guaranteed wage increases during the term and shortens the progression to get to top rate of pay. The clerk pension is fully funded, and the contract includes additional resources to secure the meat pension. In addition, the contract provides language improvements for experience credit, maximizing schedules, and expanded funeral and educational leave.
"Our Bargaining Committee worked together to win a contract that helps create a more secure future for Kroger members and their families," said UFCW Local 700 President Joe Chorpenning.