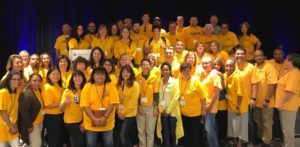 After months of negotiations, members of UFCW Locals 7, 21, 27, 135, 324, 400, 555, 770, 1167, 1428, 1442 and 1996 who work at Kaiser Permanente ratified a new contract on Nov. 1 that raises wages and improves benefits. The contract was negotiated by the Alliance of Health Care Unions (ACHU). The UFCW is a member of the AHCU and this contract covers the 12,000 Kaiser Permanente employees we represent.
The three-year agreement includes wage increases for Kaiser Permanente workers across the country, better dental benefits and new educational trust funds. The agreement also includes a stronger Performance Sharing Plan and a better funded Labor Management Partnership.
The AHCU is comprised of 21 local unions representing over 45,000 workers across hundreds of job classifications in nearly every geographic area where Kaiser Permanente has a presence. In addition to the UFCW, the alliance includes the locals of AFSCME, USW, IBT, KPNAA, IUOE, OFNHP (AFT) and ILWU.