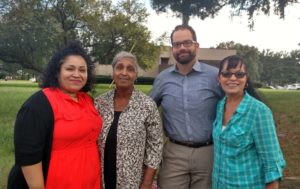 On Oct. 10, members of UFCW Local 152 who work at Spring Oak Assisted Living in Vineland, New Jersey, unanimously ratified a new contract that raises wages and improves benefits.
The three-year contract includes across-the-board wage increases every year for the lifetime of the contract. The new contract also includes an increase to the minimum starting rate for new hires, which bumped up current members' wages. Long-term members will also see a longevity pay increase to reward them for their years of service. Finally, the night shift differential was substantially raised, and paid time off increased for both full- and part-time members.
UFCW Local 152 represents about 40 certified nursing and medical assistants, dietary, housekeeping and laundry aides, activity coordinators and maintenance workers at Spring Oak Assisted Living's Vineland location.